History
Dr. Peter Cole
Professor and Graduate Director
College Faculty Excellence in Research/Scholarship Award Winner
Dr. Peter Cole is a historian with teaching and research interests in the history of the United States, South Africa, along with a commitment to public art + history. Cole teaches the Department's courses on African American History, Urban America, the Gilded Age and Progressive Era, and public history as well as the second half of the US survey, graduate seminars , special topics courses on South Africa, social movements, labor and working-class history, comparative history, as well as various historical methods courses.
Prof. Cole researches the history of social movements, especially how workers and labor unions organize in ethnically and racially diverse societies. He also maintains scholarly interests in the history of African Americans, deindustrialization, South Africa, cities, technology, popular culture, historical memory, and the maritime world.  He is a Research Associate in the Society, Work and Development Institute (SWOP) at the University of the Witwatersrand in Johannesburg, South Africa.
Cole is the founder and co-director of the Chicago Race Riot of 1919 Commemoration Project (CRR19). Along with co-director, Dr. Franklin Cosey-Gay of the University of Chicago, CRR19 seeks to use public art to remember the worst incident of racial violence in Chicago history—an event that profoundly contributed to the city's notorious and persistent racial segregation. CRR19 publicly launched on the centennial, 27 July 2019, with 250 people including aldermen, citizens, pastors, and youth leaders. They give presentations to school and community groups, lead historic bike tours, and are interviewed by the media about the history and legacy of 1919 as well as their public art project. Having partnered with a social justice-oriented art studio, CRR19 has raised more than $70,000 to create 38 artistic markers, one for each person killed in 1919, to be installed into sidewalks where each as killed. Their Chicago Tribune op-ed, from June 2020, explains their vision in the aftermath of George Floyd's killing. Hopefully, the first markers will be designed, created, and installed in 2021.
Cole's most recent book, Ben Fletcher: The Life & Writings of a Black Wobbly (PM Press, 2021), is a much revised and greatly expanded version of one first published in 2006 (Charles H. Kerr Press). Though long forgotten, Fletcher was the leader of a revolutionary union that fought racism and xenophobia (and their employers) via the most integrated, militant union of WWI era America.
His previous book, Dockworker Power: Race & Activism in Durban and the San Francisco Bay Area (University of Illinois Press, 2018) won the Philip Taft Labor History Book Award. Dockworker Power brings to light surprising parallels in the experiences of dockers half a world away from each other. It also offers a new perspective on how workers can change their conditions and world. That research also resulted in Cole winning the Russo & Linkon Award, sponsored by the Working-Class Studies Association, for a Published Essay for Academic or General Audiences, for his chapter "Durban Dockers, Labour Internationalism, and Pan-Africanism," published in Choke Points: Logistics Workers and Solidarity Movements Disrupting the Global Capitalist Supply Chain (Pluto Press, 2018).
Dr. Cole's first monograph was Wobblies on the Waterfront: Interracial Unionism in Progressive-Era Philadelphia   (University of Illinois Press, 2007). He also co-edited Wobblies of the World: A Global History of the IWW (Pluto Press, 2017). Both of these books are being translated into French for publication in 2021. His scholarly work has been published in numerous scholarly journals and anthologies. He also has written for many popular venues including the Washington Post, TIME, Miami Herald, San Francisco Chronicle, Mail & Guardian (Johannesburg), History News Network, Africa Is A Country, Jacobin, In These Times, and more.
Dr. Cole has won multiple awards and grants at WIU including College of Arts & Science Scholar of the Year, President's Excellence in Diversity Award (for Teaching), University Research Council Grant, three Faculty Summer Research Stipends, International Faculty Fellowship, and a CAS Faculty Mentoring Award. He participated in a National Endowment for the Humanities (NEH) Summer Institute on "The Civil Rights Movement" at Harvard University in 2000 and taught in the Germany Residency in American History, jointly operated by the Organization of American Historians and University of Tübingen, in 2018.
Dr. Cole was born and raised in South Florida and received his B.A. from Columbia University and his Ph.D. from Georgetown University. When not working, he enjoys trail running, road biking, exploring cities, rock climbing, yoga, backpacking, vegan cooking, and traveling. He joined the Department of History in 2000.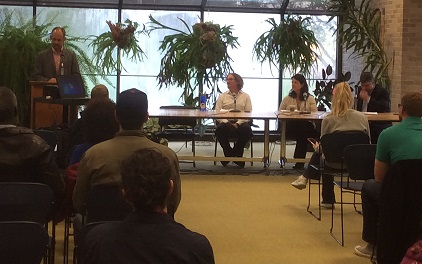 Dr. Cole presents at a panel on the 2016 Presidential Election