History
Dr. Greg Hall
Professor 

WIU Summer Teaching Stipend Award Winner
Prof. Greg Hall is one of the Department's American historians.  His teaching focuses on Illinois, the environment, and the West. Dr. Hall offers courses on the American West [History 308], Illinois [History 420(G)], Global Environment [History 421G], and American Environment [History 316], in addition to graduate seminars [History 510 and 511] in U.S. history.
Dr. Hall's research interests involve labor, radicalism and reform, and environmental history. He is the author of Harvest Wobblies: The Industrial Workers of the World and Agricultural Laborers in the American West, 1905-1930 (Oregon State University Press, 2001).  Currently, he is at work on a monograph tentatively titled, The Agitator: Jay Fox, Anarchism, and the American Labor Movement.  He also has published several essays on labor history in the West as well as presented scholarly papers at numerous conferences.
Dr. Hall has won several awards and fellowships, including the Claudius O. and Mary W. Johnson Fellowship and the Pettyjohn Research Fellowship. He has four times been selected by the WIU Foundation for a Faculty Summer Stipend and has also won a University Research Council Award.
Prof. Hall earned his Ph.D. at Washington State University in 1999 and taught in the History Department at Idaho State University for four years before joining the History faculty at Western Illinois University in 2003. He served as Graduate Director of History from 2010 to 2014.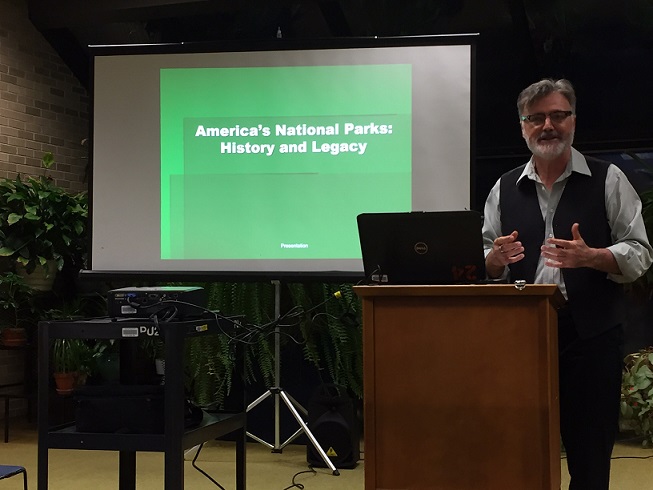 Dr. Hall gives a presentation on the National Park Service