Quad Cities Campus
Engineering at WIU Quad Cities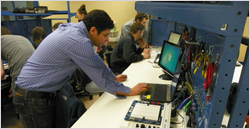 Advisor: Tom Bates | T-Bates2@wiu.edu | (309)762-1988
Departmental Website: www.wiu.edu/qc/engineering/
Program of Study
The Engineering degree program prepares graduates to thrive in the technology-driven global workplace. The program focuses on the practice of engineering with a broad curriculum that emphasizes the basic engineering fundamentals companies in this region require. The program allows students to select electives from a number of areas to increase depth and expertise, including Mechanical, Civil, Quality/Manufacturing, Engineering Management, Electrical/Robotics Engineering, and Materials Engineering. Practical Engineering is the major thrust of the program, with multidisciplinary design and teamwork incorporated throughout the curriculum. Students are encouraged to innovate and try new concepts as they develop their problem-solving skills.
Western Illinois University–Quad Cities provides junior and senior Engineering courses at the Quad Cities campus, and the program articulates with Pre-Engineering transfer programs at community colleges in Illinois, Iowa, and Missouri. WIU-QC offers a dual enrollment program through which students simultaneously enroll at a partner community college and the Engineering program. Students in the dual enrollment program who maintain full-time status can take advantage of the Western tuition cost guarantee.

State-of-the-Art Engineering Program
Western is the only public institution in the Quad Cities to offer Engineering. The School is housed in the new, ultramodern Riverfront Campus. Like the campus, equipment, tooling, and computer resources are the latest and best available.
Industry Partnership
The program is unique because of our strategic partnerships with industry in the region. There are ample opportunities for practical, hands-on, educational engineering experiences through our links to businesses, manufacturers, industry, and the Midwest Intellectual Property Institute (IPI). Students can start paid internships as early as their sophomore year if enrolled in our Linkages Program (dual enrollment) and have the opportunity to "earn while they learn" and, at the same time, gain invaluable practical experience. Our senior capstone design projects typically are completed with industry, often at their facility, and many times result in an offer of employment before graduation.
For More Information
For admissions process and general program information, contact Western Illinois University–Quad Cities at (309) 762-9481. For specific program questions, contact our Advising Center at (309) 762-1988.
Applied Research and Entrepreneurial Technology Development
The WIU-QC Engineering program is proud of its partnership with both the Midwest IPI and the Quad Cities Manufacturing Laboratory (QCML) located at the Rock Island Arsenal. These partnerships allow the Engineering program to offer students' hands-on experiences working with government entities and international corporations on leading-edge projects and technology development.
Scholarships and Honors in Engineering
Scholarship information can be found at wiu.edu/qc/scholarships or by calling (309) 762-9481.