Quad Cities Campus
Engineering Technology at WIU Quad Cities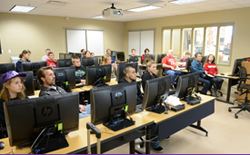 Advisor: Andi Potter | AD-Potter@wiu.edu | (309) 298-2100
Departmental Website:
Engineering Technology
Program of Study
Western Illinois University–Quad Cities' Engineering Technology (ET) degree program which is accredited by the Association of Technology, Management and Applied Engineering (ATMAE) is designed to provide an up-to-date and challenging program in response to continuously changing and sophisticated technology in an increasingly competitive global marketplace. Students are prepared for careers in areas such as quality auditing, continuous improvement, production management, operations management, cost estimating, scheduling, and a variety of technical fields. Course content that combines a unique blend of theory, principles, and concepts with know-how, practical application, and problem-solving skills ensures that students are prepared to work in a team environment. Laboratories support contemporary design and animation software and CAD/CAM plus production equipment, including CNC machining centers and material testing devices. The curriculum combines technical education with instruction in engineering, design, and management practices currently employed in manufacturing. No prior experience with engineering technology principles or software is required upon enrollment.
Students learn to organize the available workforce, materials, and equipment in order to design, fabricate, operate, maintain, and manage technical engineering projects. The program also includes a strong foundation in business principles and practices. Immediately upon graduation, students are ready to take an active role in manufacturing and to apply technical solutions to the problems that arise.
Scope and Objectives
The ET curriculum has a strong core foundation focused on the development of the skills and knowledge associated with manufacturing. The program goals include enabling students to understand, apply, and control engineering procedures, and to understand methods of production related to their field. Objectives of the curriculum include the ability to integrate the facilities and systems to produce quality products with optimal expenditures. Students learn problem-solving and critical-thinking skills that will be needed by successful managers working with technical applications.
Special Opportunities
A key component of the major is the required internship. Every student in his or her junior or senior year earns course credit for successfully applying knowledge while gaining invaluable on-the-job experience. By securing an internship in any approved major-related field, each student has the opportunity to enhance his or her skills in a professional work environment of particular interest. Many students report that the internship experience helps them focus their career goals and make vital industry contacts that benefit them upon graduation. Industry site supervisors continually report that the required internship is the vital link between education and the world of business, industry, and government service.
There are many ways to benefit from a baccalaureate degree in ET:
91+% placement
Small student-faculty ratio
Diverse faculty
Higher Salaries
Required internship (industry experience)
Apllications oriented (hands on)
Small class sizes
Certification opportunities
Develop ability to work in teams
Faculty
The faculty in the Department of Engineering Technology have received their academic preparation from noted universities. Their academic preparation, combined with industry experience, provides them with the insight and competencies to develop and oversee diverse, integrated programs of study. Many faculty hold professional certification as well as advanced degrees in their areas of specialization.
Special Learning Facilities and Equipment
Departmental laboratories contain high-tech equipment, which offers students practical experience in automated manufacturing, manufacturing processes monitoring, and computer design.
Internship Requirements
All students are required to complete an internship as part of the major curriculum. The internship provides qualified ET students with supervised experience in production practices, management techniques, research applications, and other activities in their chosen fields.
Career Opportunities
This is a major that is in very high demand in industry, with excellent employment opportunities. Depending on their area of specialization, students are prepared for careers in areas such as automation, CAD/CAM, robotics, CNC, and electronics. Program graduates are qualified to assume entry-level management positions in all areas.
Departmental Scholarship Support
The department provides a variety of additional support beyond the conventional financial assistance programs provided through the Financial Aid office. There are specific departmental scholarships and College of Business and Technology scholarships.
Detailed information on named scholarships, plus freshman and transfer scholarships is available from the wiu.edu/engrtech website, the wiu.edu College of Business and Technology website, department advising office, (309) 298-2100; Western's Scholarship Office, (309) 298-2001; or on the Web at wiu.edu/Scholarship. Information about Department freshman and transfer scholarships can be found on the wiu.edu/engrtech website.
Professional Organizations and Certifications
All students in the ET degree program are invited to become members of the Society of Manufacturing Engineers (SME). Students are eligible to sit for the Certified Manufacturing Engineer and/or the Certified Manufacturing Technologist certification exams upon completion of their degrees. Students can also take certification exams from the Association of Technology, Management and Applied Engineering (ATMAE). ATMAE's certifications are the Certified Manufacturing Specialist (CMS), Certified Senior Manufacturing Specialist (CSMS), Certified Technology Manager (CTM, formerly CIT), and the Certified Senior Technology Manager (CSTM, formerly CSIT). In addition, students can pursue certifications that match their career paths from the American Society of Quality (ASQ).
Honors in Engineering Technology
Engineering Technology installed a new chapter, Delta Kappa, of the honorary Epsilon Pi Tau in 2010. Students who are in high academic standing at WIU will be invited to join Epsilon Pi Tau, the honorary for the Professions in Technology. Delta Kappa chapter initiations are held during fall semester.
To be eligible for the Centennial Honors College, entering freshmen must have an ACT composite score of at least 28 OR have a 26 or 27 composite ACT and be in the top 15% of their graduating class OR have an ACT composite score of at least 24 and be in the top 10% of their high school graduating class. Comparable SAT score is acceptable. Transfer and current WIU students who wish to join the Honors College (including the Quad Cities Honors Program) must have a 3.4 grade point average on a 4.0 scale based on 12 or more semester hours. Honors credit is given for honors coursework completed at other accredited institutions. To find out more, visit wiu.edu/Honors.
Student Success
The mean grade point average (GPA) for undergraduate students at WIU is 3.078. The mean GPA for graduates in Engineering Technology is 3.004.
After College
Placement of Engineering Technology majors is greater than 91%. The 2014 NACE online salary survey showed an average salary of $61,500 for initial engineering services positions. A 2011 survey of graduates from the previous 10 years indicated that the average starting salary was greater than $45,000. Nearly 75% of graduates have been promoted and 60% were hired by the company where they served as interns.
For More Information
For admissions process and general program information, contact Western Illinois University–Quad Cities at (309) 762-9481. For specific program questions, contact the Engineering Technology Advising Center at (309) 298-2100 or visit our website at wiu.edu/qc/engrtech.