Quad Cities Campus
Master of Liberal Arts and Sciences at WIU Quad Cities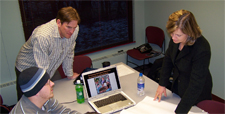 Advisor: Dr. Amy Patrick Mossman | AP-Mossman@wiu.edu | (309)298-3025 | Catalog
Information Sheet 

QC College of Arts & Sciences Website
The Master of Liberal Arts and Sciences (LAS) is for students who need or desire advanced education but do not require a specific specialized content area. This interdisciplinary degree stresses critical thinking, comparative analysis, and highly flexible content rather than a more traditional advanced specialization in a fairly small content area. The LAS program is designed especially for students seeking a Master's degree as an occupational qualification and for those who wish to have a more in-depth inquiry into the liberal arts and sciences as a step toward greater personal fulfillment. The LAS program promotes an advanced level of critique, analysis, and comparison. Students also explore the broad questions faced by human beings, as well as the specific means by which individual disciplines in the humanities, social sciences, natural sciences, and mathematics have addressed these questions.
Admission Requirements
All students who have completed an undergraduate degree from an accredited institution and who qualify for graduate study according to the admission standards of the School of Graduate Studies may be admitted to the Master of Liberal Arts and Sciences (LAS) degree program. To apply, students should be prepared to submit the following documents:
A School of Graduate Studies application form (available online at wiu.edu/grad)
Official transcripts from EACH college or university previously attended
A one- to two-page personal statement which explains their larger personal and career goals and how an LAS degree will further those objectives
Three letters of recommendation
EFFECTIVE FOR FALL 13 ADMISSION: 5-10 page writing sample (two or more papers may be bundled if necessary; please provide your most scholarly, polished writing available)
Degree Requirements
The degree requires 33 semester hours (sh), including core courses and a capstone experience, and incorporates post-baccalaureate certificates currently available in the College of Arts and Sciences (CAS). Students who do not hold one of these post-baccalaureate certificates can construct their own individualized LAS program. These students will design a course of study from the CAS's general list of courses offered in consultation with the director of the Master of LAS degree program.
Distinctive Features
The LAS degree program has many distinctive features and opportunities for its students. The program is defined at every level by its most distinct features—flexibility and academic excellence.
Flexible Program Structure
Students have several exit options or possible capstone experiences. Students can write a thesis if they wish, or students can work on an applied project or in an internship. All of these options feature a close working relationship with a faculty member of their choice. This kind of mentoring and development of real relationships with CAS faculty is one of the strongest features of the LAS degree program.
Flexible Schedule
One of the key elements of the LAS program is the flexibility of the course offerings. In addition to regularly scheduled day courses, courses are scheduled during the evenings and, occasionally, on the weekends. The program is designed to meet the needs of part-time students as well as to accommodate students' busy schedules and to deliver the degree in the most accessible manner possible. The director of the Master of LAS degree program will meet regularly with students on the Quad Cities and the Macomb campuses and be directly involved in providing real guidance and consultation in the student's progression through the program.
Research and Scholarly Activities
There are many activities in which students in the LAS degree program can participate such as annual departmental conferences; departmental, College, and University speakers; various workshops; and graduate organizations, clubs, and so on. This academic culture is one of great opportunities for the students in the LAS degree program and, indeed, one of the keys to the larger success of the LAS degree program and the LAS student.
Faculty Excellence and Expertise
Through participation in the LAS degree program, students will have the opportunity to study with a highly qualified and diverse faculty who hold advanced degrees from prestigious institutions from throughout the United States and from around the world. Our goal is to create an environment where our students are able to develop and define their individual interests and emphases by working directly with faculty whose scholarly activities are on the cutting edge of those academic interests and emphases.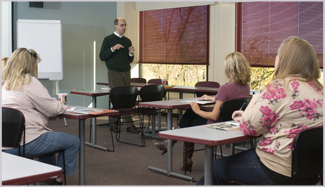 Featured Alumna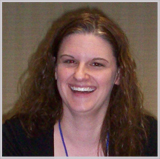 "I enjoy the freedom to develop my own course of study, choosing courses that are relevant to my personal academic goals. The faculty within MLAS are outstanding: personally devoted to student success, encouraging, and always presenting new opportunities. The core courses offer a unique interdisciplinary opportunity, which encourages active thought, discussion, and debate among students and faculty from multiple disciplines."
– Christina Monson, MLAS,
Liberal Arts and Sciences, May 2012
Career Opportunities and Personal Development
Nontraditional programs that emphasize comparative, critical thinking skills are more applicable to the needs and demands of the majority of students employed in industry or service occupations where advanced specialty education is supplied on the job. The Master of LAS degree is designed to meet those specific applications and needs. The LAS degree will enhance students' ability to work in an extraordinarily diverse variety of industry, occupational, and professional environments. Graduates of the LAS program will be highly skilled in speaking, writing, critical reading, and critical thinking and will be able to use the broadly based, advanced interdisciplinary education they receive in the degree program as a means of increasing their upward occupational mobility.
The LAS degree also offers students the opportunity for tremendous intellectual development. The program is student-centered and structured to allow students to explore the issues they are interested in exploring. By being so flexible and, again, by giving students a broad, diverse set of educational contexts and experiences, students will be able to translate their work directly into real personal growth and development, as well as attaining the marketable credentials needed for future and current occupations.
Assistantships and Other Funding Opportunities
Currently, the LAS degree program does not offer graduate assistantships. There are, however, numerous funding opportunities available for students in the LAS degree program through awards, scholarships, and fellowships in the Graduate School and through the individual departments of the three LAS core areas: (1) the humanities, (2) social sciences, and (3) natural sciences/mathematics.
Contact Information
For admissions process and general program information, contact Admissions, Western Illinois University–Quad Cities, 3300 River Drive, Moline, IL 61265, (309) 762-1495, WIU-QC-Admissions@wiu.edu, wiu.edu/qc.
For specific program questions, contact Dr. Amy Mossman, Interim Director, Liberal Arts and Sciences, College of Arts and Sciences, Western Illinois University, 1 University Circle, Macomb, IL 61455, (309) 298-3025, Grad-LAS@wiu.edu, wiu.edu/las.