Quad Cities Campus
Information Systems at WIU Quad Cities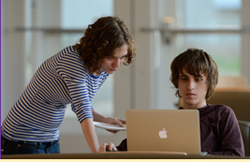 Advising: (309) 762-5787
Brochure 

Departmental Website:
Information Systems
Bachelor's Degree in Information Systems
As new information and internet-based technologies are changing the structure and operations of organizations, developing the skills to provide the tools, manage the systems, and research new avenues of improvement and innovation become the key to the future. The Bachelor of Science in Information Systems degree program provides students with this cutting-edge knowledge.
Requirements
In addition to WIU's general education requirements, Information Systems students take 77 hours of information systems curriculum, which includes major requirements, minor requirements, electives, etc. All information systems majors take courses in business, IT infrastructure, global social networks, JAVA programming, business systems analysis, enterprise database management, web IT systems, and project management and development.
Information Systems majors may also take advanced courses in business communication, global social networks, strategic systems, business intelligence, enterprise architecture, and web technologies management.
Students majoring in Information Systems must also minor in a business area.
GradTrac is available to Information Systems majors.
More Information
IT-Systems
According to the U.S. Department of Labor, employment of computer and IS managers is expected to grow 16% through 2016. Demand for workers and managers will continue to increase because of new IT applications. The outlook for computer IS managers remains strong. Firms will continue to install systems that are more complex in order to remain competitive. Having an effective and well-managed IT system is essential to every organization.
Individuals with the IT-Systems optionmay gain employment in a variety of areas. Some job titles include the following:
Project Manager
Database Management Consultant
Systems Analyst
Chief Information Officer (CIO)
Earnings for computer and information systems managers vary by area of specialty. However, entry-level salaries for both options range from $42,000 to $60,000.
For More Information
For admissions process and general program information, contact Western Illinois University–Quad Cities at (309) 762-9481. For specific program questions, contact the College of Business and Technology at (309) 762-5787.