Quad Cities Campus
Law Enforcement & Justice Administration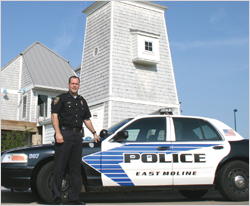 Advisor: Kim Moreno | KM-Moreno@wiu.edu | 309-762-6678
Brochure 

Departmental Website:
Law Enforcement & Justice Administration
Major Program
Law Enforcement and Justice Administration (LEJA) at Western Illinois University–Quad Cities is designed to provide an educational base for professions in law enforcement, criminal justice, probation and parole, private security, and the law. Students gain from learning about the philosophical and historical development of these professions and, combined with an internship, LEJA's interdisciplinary curriculum offers a flexible and practical education.
Students become LEJA majors after completing 60 semester hours (sh) of credit with a cumulative grade point average (GPA) of 2.5 and may register for upper-division major courses. All students seeking the Bachelor of Science in Law Enforcement and Justice Administration must complete 43 sh of University General Education curriculum, 39 sh of core courses, 3 sh of directed electives, Computer Science 101, 16 to 20 sh in an approved minor, and 12 to 16 sh of electives. The minimum requirement for the baccalaureate degree is 120 sh. LEJA majors must complete at least 30 sh in LEJA courses at Western, including an internship, with at least 9 sh at the 300/400 level.
The LEJA major is centered on a core of courses and requires an approved minor. The core of courses includes classes in criminal procedure, ethics, investigation, management, law, juvenile justice, corrections, and other criminal justice-related topics. If you do not want to major in LEJA but plan on a related career, the School of LEJA offers a minor consisting of six courses that will provide you with an overview of criminal justice in today's society.
Internship Programs
During your senior year as an LEJA major, you will spend a semester as an intern with a local, state, or federal criminal justice agency or with one of the numerous private security corporations. More than 1,200 agencies across the nation cooperate with the University by accepting interns.
During the internship, you will spend 40 hours per week for 15 weeks as an observer and participant in agency activities. The internship gives you firsthand practical experience and valuable contact with criminal justice practitioners. In many cases, the internship has led to employment after graduation.
Career Opportunities
Employment opportunities are available in county, municipal, state, and federal law enforcement and criminal justice agencies throughout the country. In addition, LEJA graduates are employed in industrial/retail security and other private security businesses.
LEJA Faculty
Courses in the School of Law Enforcement and Justice Administration are taught by faculty holding doctoral and law degrees from distinguished universities, and many of the faculty bring practical experience to their teaching as well. All are dedicated educators and active scholars.
Scholarships
The School of LEJA offers numerous scholarships for sophomore through senior LEJA majors. Detailed information on scholarships is available from the school advising office, (309) 298-1438; Western's Scholarship office, (309) 298-2001; or on the Web at wiu.edu/Scholarship.
Honors in LEJA
To be eligible for the Centennial Honors College, entering freshmen must have an ACT composite score of at least 28 OR have a 26 or 27 composite ACT and be in the top 15% of their graduating class OR have an ACT composite score of at least 24 and be in the top 10% of their high school graduating class. A comparable SAT score is acceptable. Transfer and current WIU students who wish to join the Honors College (including the Quad Cities Honors Program) must have a 3.4 GPA on a 4.0 scale based on 12 sh or more. Honors credit is given for honors coursework completed at other accredited institutions. To find out more, visit wiu.edu/Honors.
For More Information
For admissions process and general program information, contact Western Illinois University–Quad Cities at (309) 762-9481. For specific program questions, contact the College of Education & Human Services at 309-762-6678.