Quad Cities Campus
Freshman Honors Cohort
What is the "Freshman Honors Cohort"?
Students in the Freshman Honors Cohort will have the opportunity to meet classmates from other states and countries, collaborate on projects in and out of the classroom, and make personal friendships and professional connections that will last four years, and beyond!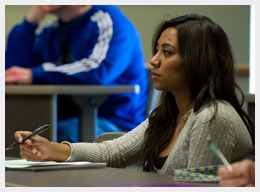 Why WIU-Quad Cities?
WIU-Quad Cities offers excellent and affordable academic programs, and now offers general education courses for the Freshman Honors Cohort that will prepare you to achieve your academic and career goals. Western Illinois University is nationally recognized by the Princeton Review and U.S. News and World Report as a top tier institution.
What majors are available through the cohort?
The majors that are available for students to be a part of the full four year experience at Western are: Engineering, English, Liberal Arts, and Communication. 
*Other majors may be able to be done through this program, but might include online classes or minimal number of courses picked up through local community colleges - call (309)762-1495 for details.
What are the "Freshman Honors Cohort" requirements?
To be eligible for admission to the "Freshman Honors Cohort"  and the Western Commitment Scholarship, you must have a 3.0 Grade Point Average and have a score of 22 on the ACT. If your GPA is higher than 3.0 and ACT is higher than 22, you may be eligible for a higher Commitment scholarship. See graph and detailed information about Western Commitment Scholarships
Students who do not meet these eligibility requirements, but meet regular admission standards (18-23 ACT, 2.63-3.34  high school GPA) should consider the Linkages program that can link them into Western as a freshman while partnering with the local community colleges.
How will I pay for college?
"Freshman Honors Cohort" students who meet minimum requirements are eligible for the new Western Illinois University Commitment Scholarship, which provides a minimum of $1,000 annually to apply toward the cost of attending college.
Scholarships Levels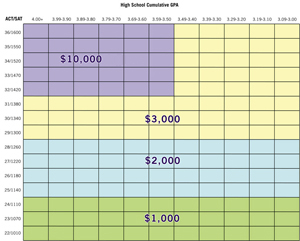 $10,000

Minimum ACT of 32 or SAT of 1420
Minimum GPA of 3.5 on a 4.0 scale
$3,000
Minimum ACT of 29 or SAT of 1300
Minimum GPA of 3.0 on a 4.0 scale
$2,000
Minimum ACT of 25 or SAT of 1140
Minimum GPA of 3.0 on a 4.0 scale
$1,000
Minimum ACT of 22 or SAT of 1010
Minimum GPA of 3.0 on a 4.0 scale
Western also offers the WIU Cost Guarantee.
What are the professors like?
Learn from experienced faculty with practical, real-world experience. Students at WIU-Quad Cities enjoy personalized attention from faculty who provide great opportunities inside and outside the classroom.
What is the campus like?
Students from all majors take classes at the new, state-of-the-art WIU-Quad Cities Riverfront campus, located on the Mississippi River in Moline, Illinois. WIU-Quad Cities is a community-based education, meaning you live where you choose and attend classes on campus and around the community. If you need assistance with finding a place to live, talk with an admissions counselor at 762-1495 or visit online resources at: http://www.wiu.edu/qc/admissions/och.php
How do I apply?
Visit http://www.wiu.edu/qc/apply/ to apply online or call (309) 762-1495 for more information.
Who should I contact with questions:
WIU-Quad Cities Admissions Counselors are available to answer your questions and guide you through the admissions experience. Call 762-1495 and ask to speak with Kassie, Dana, or Emily today!