Western Illinois University: Macomb Campus

Audience Menu
Web Tools and Search Bar

Top Navigation
University Housing & Dining
Fall 2014 Residence Hall Move-In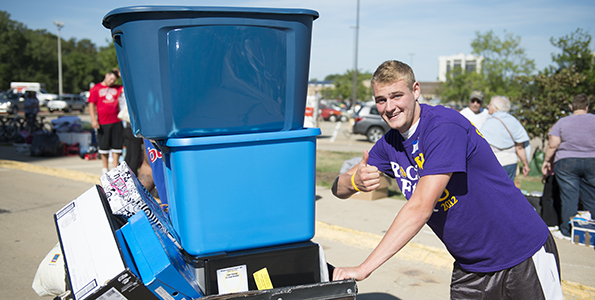 Although move-in day can seem hectic with a lot of people with a lot of stuff all wanting the elevator at the same time, you can actually expect the process to take about 60 minutes or less. Dozens of returning WIU students make the move-in process a lot smoother by volunteering to come back to campus early and help you move in - we call them the "Move-in Crew." (The Move-in Crew is only available on Friday and Saturday between 8am and 6pm).
Get some of your questions answered by checking out the transcripts from our Housing Online Chat! 

All Residence Halls OPEN
8:00 am on Friday, August 22, 2014
Bayliss/Henninger, Corbin/Olson, Lincoln/Washington/Grote, Tanner and Thompson halls will open for check-in beginning at 8:00 am on Friday, August 22, 2014. You can check into your hall between 8:00 am and 10:00 pm anytime/day after the initial "open" date listed above. Peak move-in times tend to be from 10:00 am to 3:00 pm. We encourage you to use the recommended target times below – we try to spread out traffic based on your home's proximity to campus. 
If you live within:
0-75 miles from campus: Arrive 8-9 am
76-125 miles from campus: Arrive 9-10 am
126-150 miles from campus: Arrive 10-11 am
151-175 miles from campus: Arrive 11 am - Noon
176-200 miles from campus: Arrive Noon - 1 pm
over 200 miles from campus: Arrive After 1 pm
**The above guidelines are suggested times for you to arrive to campus to help distribute on-campus and move-in traffic. The times do not need to be strictly followed.

What is the Check-In Process Like?
As you arrive in Macomb and make your way to campus you can expect to encounter our Office of Public Safety directing traffic. These officers control the flow of cars to the individual residence halls. Once you are directed to approach the building, unload your vehicle near the hall, and while someone stays with the belongings, please move the car to a regular parking lot. After you unload do not leave your vehicle parked near the hall. This will ensure that others are able to do the same.
When you arrive to your residence hall you will be greeted by staff and returning students who will direct you through the check-in process.  Our process is an electronic information process, so you will need to know your University ECOM username and password and verify some contact information with us.  Then you will be directed to pick-up your room and access keys and asked to inspect your room for any damages we may have missed.  Along the way, you will be assigned a move-in crew member (based on availability, expect a wait during peak times) who will help you move in your belongings.  



MicroFridge: For $130/year rent (will be auto split if two roommates order a MicroFridge), any residence hall student can have the convenience of a microwave/refrigerator combination unit in your room when you arrive to campus. If you are interested, you can add this option on STARS (after you receive your assignment) by visiting UHDS Housing Information Menu > Residence Hall Contract Changes.
Lofts, Futons, & TV Hangers: 
Western Illinois partners with Bedloft.com to offer students a number of convenient, affordable products and services to create more space in their residence hall room. Many WIU students take advantage of the Bedloft.com program each year and find it to be very beneficial to their living experience. Proceeds from the program support WIU and help fund programs for students throughout the year.
Bed Loft Rental – Tanner Hall ONLY
Bed lofts are an easy, affordable way to create additional living area in the room.  Students who pre-order by AUGUST 3 will have their bed loft delivered directly to their room before move-in day for free! This will help make the move-in experience much smoother and give students many more options for setting up their room in a comfortable configuration.
Futon Purchase – All Halls
The versatile futon can be used as a love seat, lounger or full-sized bed and is customized to fit under ANY bed loft at WIU, making it available to students in all halls. It is a great way to have additional seating in your room for you and your friends! 
Loft Bed TV Hanger Purchase – All Halls
This one-of-a-kind TV hanger allows you to hang up to a 42" flat screen television directly from your bed loft! It safely secures your TV without leaving any marks or holes on the walls – essential for college living! The TV Hanger will work with ANY bed loft at WIU, making it available to students in all halls.
Students can place their order online at bedloft.com. Make sure to order by AUGUST 3 to guarantee FREE delivery to their room before move-in day!
Bed Linens: Save yourself a trip to the store and order linens that are guaranteed to fit our beds and last until graduation. We partner with Residence Hall Linens to provide fun, affordable and attractive sheets, towels, pillows and more. Proceeds from this program go to Inter-hall Council, our governing student group, and are used for programming in the residence halls. Visit ocm.com/wiu/linens  for more information and to order your linens. Order by August 2.