Western Illinois University: Macomb Campus

Audience Menu
Web Tools and Search Bar

Top Navigation
University Housing & Dining
Honoring Our Professors of Excellence (HOPE)
University Housing & Dining Services is celebrating the sixth annual Honoring Our Professors of Excellence (HOPE) Awards on April 9, 2013.  The HOPE Awards allows students within the residence halls to recognize their faculty members, who help share their learning in and outside the classroom.  We are wanting all students to nominate a favorite, inspirational or dedicated faculty member that they have experienced in their career at WIU.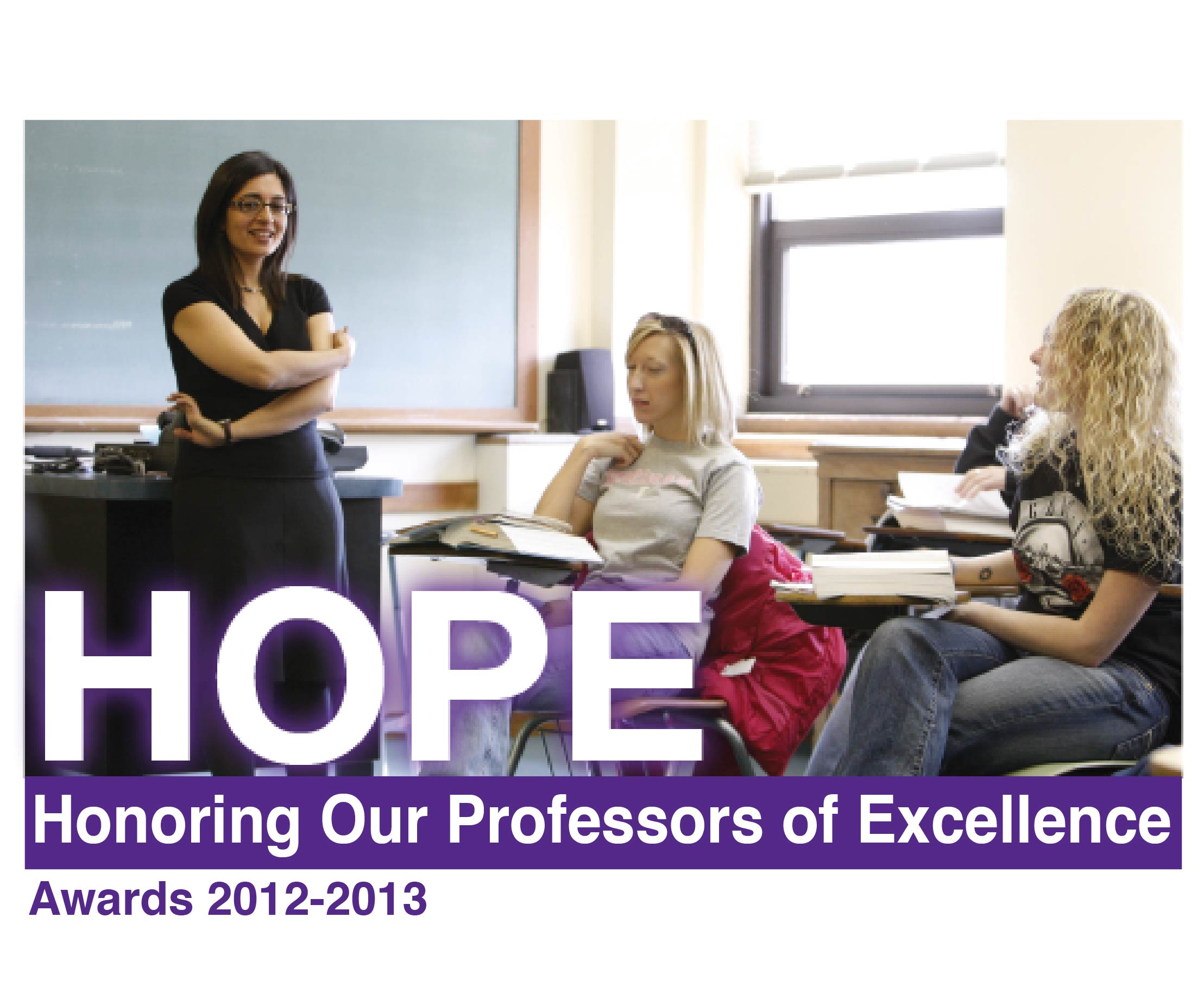 Nominating your favorite professor is easy...
Return the packet to AD-Lehr@wiu.edu or your Residence Hall front desk
2012-2013 H.O.P.E. Awards
February 21: Nomination Form Available
March 18: Nominations Due
March 22: Nominations Announced
April 9: H.O.P.E. Awards Reception, 12-1 pm, Heritage Room, University Union
Past Award Winners & Quotes
Dr. Daniel Yoder - "I know that I can go and talk to him about anything. He makes the class very exciting to go to. He is just a great guy and a lot of fun." Nominated by Jordan B.
Dr. Carla Paciotto - "Her teaching skills are ones I too wish to acquire and use for my own students in the future. The activities we do in class actually pertain to our lives and experiences which makes it so much more interesting." Nominated by Jenna O.
Dr. Terry Mors - "While most teachers will only rephrase materials found in our class books, Professor Mors will explain the topic in depth and then give us real life examples." Nominated by Michael L.
Dr. Alphonso Simpson - "He encourages me to learn more about my history. He gives my peers and I hope so succeed in life. He is a great teacher and an excellent role model."  Nominated by Kiya P.