Libraries
My Top Ten List
Isaac Hunter Dunlap
Professor & Information Systems Librarian
---
Born: Chapel Hill, North Carolina
Colleges: Campbell University (BA, History), Southern Baptist Theological Seminary (MDiv),
University of North Carolina at Greensboro (MLIS)
Favorite Book: most anything by Umberto Eco
Favorite TV Show: Roots (1977 miniseries), M*A*S*H, The Day the Universe Changed (documentary), Mystery Science Theater 3K, TRMS
Favorite Movie: The Third Man (1949), 12 Angry Men (1957), The Good, the Bad and the Ugly (1966), The Sting (1973), Being There (1979), Absence of Malice (1981), Little Shop of Horrors (1986)
Favorite Food: Eastern North Carolina (sans Lexington) Barbecue (hours-smoked, vinegar-based, one-of-a-kind perfection)
---
I'm a librarian — which in my case makes me both a generalist and a humanist. My scholarly interests have led to journal articles published on diverse topics including art history, medieval Arabic-to-Latin translation, and the digital revolution underway in scholarly communication and academic libraries. Having spent the last 20+ years coding, designing web sites/apps, and authoring a book on Open Source Database-Driven Web Development, I'm also a technologist. I enjoy research, building and synthesis — bringing disparate parts into a whole. I delight in grappling with history, current events, rhetoric, and truth (ha!)1, while employing LAMP stacks, AV digitization, metadata, and narrative to facilitate access, preservation, and discovery.
The Top 10 List I've compiled is eclectic and in no particular order. These aren't necessarily the books I consider the most important or the most influential. It's a small subset of titles that I've enjoyed, learned from, been challenged by and/or found useful along the way...
1
Please do not misapprehend. I mock not truth, but acknowledge the folly of its complete capture due to its nature (e.g., profundity, gravity, simplicity/complexity, paradox, et al), and its many accompanying challenges including: language, meaning, power, agenda, presentation/usage/intent, the inevitable demands (& conflicts) of discernment and interpretation, and its curious elusiveness (generally due more to terrestrial than metaphysical concerns --- e.g., see Amnesia, below).
---
My Top Ten List
10

. The Name of the Rose (1980) / Foucault's Pendulum (1989) — Umberto Eco
An Italian semiotician and philosopher, I initially fell for Eco the novelist after encountering his gripping medieval, monastic murder mystery, The Name of the Rose (far surpassing the eponymous Sean Connery flick). While character development is assuredly not his strength, Eco's vast (and I mean vast), encyclopedic knowledge of "every interesting thing" historic, mythic, symbolic, &/or mysterious found its way into Pendulum's heady tale of templars, alchemists and telluric currents. Forget Brown's Da Vinci Code — this is the real deal.
9

.

Theological Investigations:

Texts of Terror: Literary-Feminist Readings of Biblical Narrative — Phyllis Trible (1984); How Jesus Became God: The Exaltation of a Jewish Preacher from Galilee — Bart Ehrman (2014)
Texts of Terror was a groundbreaking hermeneutical experiment and corrective for chronically ill-interpreted, misogynistic portions of the biblical narrative. With rigorous scholarly precision Trible exposed patriarchy's enduring ability to abuse, abandon and subjugate through direct violence and more passive societal structures designed to control and subdue. Thirty-five years later, the sound methodologies Trible employed remain as relevant as ever in exegetical studies and analysis.
Potentially challenging for readers not conversant with the critical-historical methodologies of the field, How Jesus Became God is a riveting, scholarly romp through the literature. Ehrman (a UNC professor of religious studies), deftly employs the tools of form/redaction/literary criticism and textual analysis with a keen knowledge of 1st & 2nd Century CE history, politics, and early (often competing) orthodoxies (and "heresies"), to investigate the Historical Jesus and subsequent (Ehrman argues "late") confessions of encounters with the divine.
8

.

Laughing Out Loud:

A Walk in the Woods — Bill Bryson (1998); Liar's Poker — Michael Lewis (1989); The Ask: A Novel — Sam Lipsyte (2010); A Connecticut Yankee in King Arthur's Court — Mark Twain (1889)...
If humor lies in the eye of the beholder perhaps these titles were only funny to me? Regardless, this short list represents a mixture of lighthearted revelry, biting self-deprecation, black humor, and acerbic satire. Alas, each imperfect in various respects, there were pages within that struck chords of hilarity for me.
7

. The Lord of the Rings (Trilogy) — J.R.R. Tolkien (1955)
No, not the movies (which are entertaining enough)...the books! Tolkien introduces us to flawed human characters in a medieval-like, magical realm of wizards, elves, sorcerers and orcs. An epic struggle between forces of darkness and light, the characters retain free will and conscience while facing stark, consequential choices of engagement, acquiescence, loyalty, betrayal, courage and despair. Some have called Tolkien's achievement a mere Cold War allegory, but this is a superficial assessment. Rings is a wise, rich, brilliantly conceived and executed masterpiece.
6

. A Brief History of Time — Stephen Hawking (1988)
If there is a single scientific book that non-gravitational theorists might read to best understand the cosmic context of human activity, this could be it. Somehow, quite remarkably, Hawking manages to make quantum mechanics, dark matter and cosmology quasi-understandable and genuinely interesting. First published in 1988, Hawking added new material in the 1998 version. A must read for sentient citizens of the 21st century.
5

. Will in the World: How Shakespeare Became Shakespeare — Stephen Greenblatt (2004)
Perceptive, insightful and beautifully written, Greenblatts's widely (and rightfully) lauded biography of Shakespeare is a fun read. While occasionally filling empty historical gaps with lively conjecture and speculation, Greenblatt's sweeping, authoritative command of the politics and the times enables him to weave a plausible, riveting tale of how Avon's Bard must have come to be.
4

. Free Software, Free Society: Selected Essays — Richard M. Stallman (2002)
Curmudgeonly stubborn and not without eccentricity, Stallman is a philosopher, programmer, and longtime "hacker" (a term of endearment; RMS reckons security breakers are "crackers") at MIT's AI Lab, who pioneered GNU software and the novel "copyleft" (GPL) legal device, which employs copyright law to extend distribution rights for derivative copies of "free software." (Stallman insists: "'free' as in 'free speech,' not as in 'free beer'."). Linus Torvald relied upon Stallman's GNU software in creating the famous Linux operating system. An independent and provocative thinker, Stallman's ideas have deeply influenced (and sometimes conflicted with) the Open Source movement. Stallman is a "must read" for beginning coders, would-be software developers, and anyone who seeks a better understanding of how the ownership, control and distribution of technology impacts individual rights in modern society.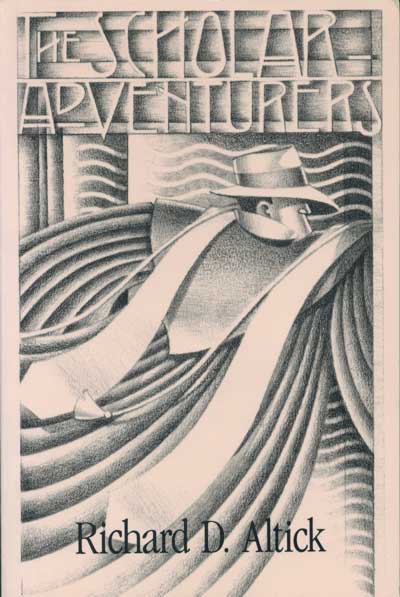 3

. The Scholar Adventurers — Richard Altick (1950)
Altick's gem captures the infectious spirit and phrenic exploits of determined literary detectives in hot pursuit of mysterious documents, stolen manuscripts, forged imitations and ingenious conspirators. Mostly this book extols the captivating thrill of researching (and pursuing) knowledge ardently sought. Few owners still have this book on their shelves since most have lent it one too many times. I was fortunate a favorite grad school professor dared share his treasured copy (yes, gratefully returned). An unusual blend of Sherlock Holmes, Poirot and Erasmus, traditional bibliophiles in search of mystery may discernibly swoon. Others, decidedly, will not.
2

. War and Peace — Leo Tolstoy (1869)
Twenty-plus years ago I plowed through this 1,500-page tome — I could not put it down — during a longish winter vacation break. While in some respects it's needlessly long, when you're done you may wish it might never have ended. The phrase "tour de force" falls short: I call it wonderful. But fair warning: if you aren't much interested in macro history, historiography (for the sake of historiography), and in panoramic tours of the philosophy of history then portions of this book may well steal your joy. Patience is rewarded as Tolstoy excels in bringing characters to life and is unusually perceptive in his understanding of human relationships, the pursuit of love and power, the complexities of the human spirit, the vanity of Napoleon, and the perseverance of the Russian people. As eloquent as he was brilliant, you'll get back far more from Tolstoy than what you put into engaging this extraordinary text. [Note: There are several major English translations, four since 2005. I happened to read the 1923 Maude version (Norton, 1966), still considered one of the more readable, comfortable, translations of the Russian (and French).]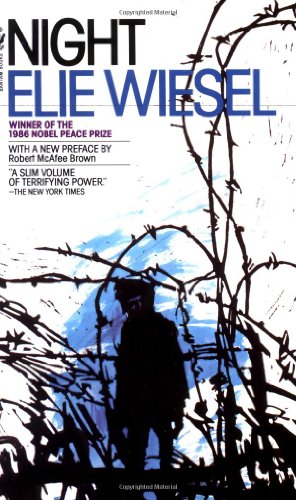 1

. Amnesia & Social Justice: Night — Elie Wiesel (1960); The Rise & Fall of the Third Reich — William L. Shirer (1960); Democracy Betrayed: The Wilmington Race Riot and Its Legacy — David Cecelski & Timothy Tyson, eds. (1998); Blood in Their Eyes: The Elaine Race Massacres of 1919 — Griffin Stockley (2001).
What is it that makes people develop historical amnesia concerning events both recent and past? I find it wherever I go. Some writers, however, find the courage to engage the past and tell the stories that need to be remembered. I first read Elie Wiesel's haunting, personal account of the Nazi concentration camps at Auschwitz and Buchenwald when I was sixteen (about his age when he was there). I couldn't forget, didn't want to, still don't.

William L. Shirer's lucid, cautionary The Rise & Fall of the Third Reich received the 1961 National Book Award for Nonfiction at a time when people were already "moving on" from recollections of Nazi atrocities and war crimes just fifteen years past. Born in Chicago and raised in Cedar Falls, IA, Shirer showed the undisguised, terrifyingly methodical way a fringe political party overtook the government of an "enlightened" modern society. Strong moral clarity and conviction resound throughout this text, written by the courageous CBS and wire service correspondent who lived and reported from Germany during the build-up and launch of World War II (1925-1940). While this is a solid, fact-based, journalistic account it is by no means a scholarly academic study. The reader will search in vain for adequate footnoting and citation, and the text undermines its otherwise sound moral judgment with "popular" (at that time) broadsides that attacked homosexuality as practically a cause for Nazi corruption and criminality. Despite these difficulties and failings, Shirer's powerful account remains an important reminder of the demogoguery, cynical machinations, and acts of terror perpetrated by Hitler and the Nazis — the kinds of uncomfortable, unacknowledged lies and impulses that every generation must recognize and be ready to confront, engage and oppose.



In recent years I've studied the horrific massacres of African Americans in Wilmington, NC (1898) (the only successful coup d'état in American history); Springfield, Illinois (1908); and Elaine, Arkansas (1919), southwest of Memphis. Though each a decade and hundreds of miles apart, they were connected — are connected — in profound respects. It is essential to read, learn, discuss, and remember the past. As Faulkner wrote, "The past is never dead. It's not even past." Unfortunately a certain historical amnesia often precludes the development of insight, awareness and personal courage to actualize social justice in the here and now. Read, get woke, live!
---
Bibliography