Macomb Campus
About the WIU-Macomb Campus
Western Illinois University's main campus is located in the rural community of Macomb, Illinois and offers a vibrant collegiate experience for more than 7,000 students. The beautifully landscaped campus has more than 60 buildings on more than 1,000 acres, including seven residence halls, a 300-acre farm, and an 18-hole golf course.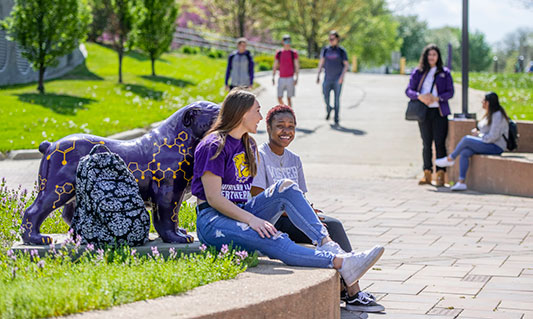 See what WIU has to offer by joining us for a visit. Simply select the visit option that meets your needs and we'll take care of the rest. If you'd like more information, please complete our information request form.
Midwestern charm
Macomb is full of that Midwestern charm that's hard to find anywhere else. Take a walk around the downtown square to meet up with friends at the coffee shop or restaurants, visit eclectic shops and boutiques or hit up the Farmer's Market on Thursdays and Saturdays for fresh produce or homemade desserts. Go West Transit provides students with fare-free, convenient transportation from and around campus and with service to the entire Macomb community.
A Safe Place to Live and Learn
The community and University are closely integrated and work together to create a safe environment for everyone to learn and grow. Residence hall facilities provide nearly 4,000 students with living and dining services. All residence halls are smoke-free and rooms are wired for LAN and wireless internet. Many off-campus housing possibilities, including fraternities and sororities, are open to upper-division students.
The Leslie F. Malpass Library in Macomb is the main branch at WIU and provides an inviting environment for research and study. The Macomb campus also has specialized branch libraries for music and curriculum.
The Macomb campus is home to 20 NCAA Division I sports, while Campus Recreation offers a variety of fitness opportunities, intramural sports programs and club sports. Other opportunities for student involvement include leadership development, volunteer services, student programming, Student Government Association, fraternities and sororities, and 225 student organizations.
Land Acknowledgement
Western Illinois University-Macomb is located on the ancestral lands of the Illinois (Inoca) Indigenous people. The Inoca were a tribe within the Peoria tribe, which was one of the five main tribes of the Illinois Confederation. There were 12 to 13 tribes who lived in the Mississippi River Valley. Tribes occupied an area reaching from Lake Michicigao (Michigan) to Iowa, Illinois, Missouri, and Arkansas. The five main tribes were the Cahokia, Kaskaskia, Michigamea, Peoria, and Tamaro.
---
Featured Macomb Campus Locations