College of Fine Arts and Communication
How You Can Support Audio Information Services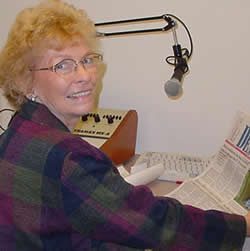 Volunteer Your Time
Assistance to Audio Information Services (AIS) comes in several forms. An obvious but important way is simply by taking the time to communicate the availability of the volunteer and listener opportunities offered to family, friends, neighbors and potential listeners.
The Audio Information Services are volunteer-based and volunteers are essential for maintaining the day-to-day operation of all the services. Volunteers usually read for one half-hour to an hour per week. Volunteers are also needed as regional advisory board members. Become a Volunteer.
Individual Contributions
Individual contributions to Audio Information Services are necessary for the day-to-day operation of the services. Donations are typically received from listeners, friends and family members of listeners, and volunteers. One-time and recurring gifts can be made online. Planned giving (such as wills and bequests) is arranged through the Western Illinois University Foundation.
A financial gift, either made individually or as a group, ensures uninterrupted programs for AIS listeners and clients. Donations are tax-deductible as permitted by law. 
Vehicle Donation Program
Is your old heap ready to go? It has been good to you, so why not let it do one more good thing and benefit Tri States Public Radio? Our partner, Car Talk Vehicle Donation Services, makes sure your donation is tax deductible and your vehicle is properly handled. Bonus: it's easy and free! 
Annual Fund Raising Events
The annual "Adopt-A-Paper" fund raiser is designed as a way for individuals, businesses, and organizations to assist with the costs associated with broadcasting our newspapers and magazines. Sponsorship thank yous are aired daily starting in September. Anyone interested in sponsoring a newspaper or magazine can contact the AIS staff or Regional Advisory Board Member.