Libraries
2011 Libraries Trivia Contest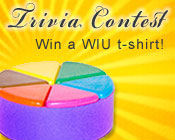 Congradulations to Kristin and Mahanand the 2011 Libraries Trivia Contest winners!
University Libraries usually provides the answers at the reference desk, but this time we want the answers from you. Each correct answer will earn you an entry to win a WIU t-shirt.
Questions:
Which desk houses the Course Reserves materials?


Answer: Access Services Desk, Circulation Desk



What is the name of the Unit (department) where you can borrow a digital voice recorder?


Answer: Digital Commons



On what floor is the City of Gandalf located?


Answer: 5th floor



Where is the book, The Vampire Book: The Encyclopedia of the Undead located?


Answer: Reference, Call No. REF. GR830.V3 M45



What is the name of the Unit (department) where the Burl Ives collection is currently on display?


Answer: Archives and Special Collections, Archives



Where can I find a book on German tank maintenance in WW II?


Answer: U.S. Army Center of Military History publication: German tank maintenance in World War II. GovPubs: SuDocs no.: D114:19/3:G31/2


The contest is limited to currently enrolled students. The contest runs through Sunday, September 4, 2011. Each correct answer is an entry into the drawing. The winners will be announced the week of September 5th. You have several options to enter, go to the Ask A Librarian page and use the Web Form to email your answer(s), Instant Message your answer, call the Reference Desk directly, or stop by the Reference Desk on the second floor of the Leslie F. Malpass Library and complete the entry form. Please be sure to provide your name, the question you are answering, the answer, and an e-mail address.