Libraries
Research Tools & Widgets
Research Panel (Chrome/Firefox Browser Extension)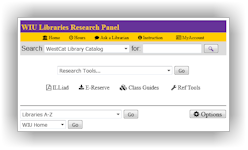 WIU Libraries has created the new Research Panel extension for Chrome and Firefox browsers, giving you quick access to library resources and services wherever you are on the web. The panel gives you easy access to the WestCat Library Catalog, I-Share, WorldCat, and ILLiad (Interlibrary Loan), along with scores of world-class subscription databases only accessible by WIU-affiliated users. Chat, talk or email with professional reference librarians in real time. Download the extension making library research a breeze.
Persistent Link Converter
The Link Converter easily transforms Persistent Article Links (URLs) you may obtain from a library subscription database. Converting a Persistent Article Link makes the article available to authenticated WIU users at off-campus locations (in addition to on-campus access). It is not necessary to convert "library direct" database URLS (e.g., WorldCat: https://www.wiu.edu/library/direct/?WorldCat), since they are always "off-campus-ready".
Library Search Engines For Firefox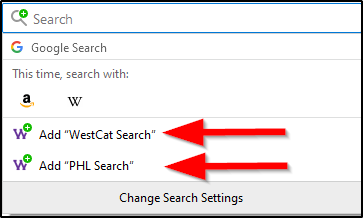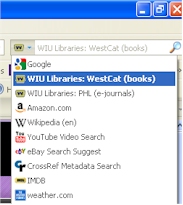 Want to search WIU library resources directly from your Firefox search box? Just add a WIU Search Engine Plug-In directly into your browser. It's easy! Instructions: Using Firefox from this current page, click the green "+" sign in your upper search box. Click "Add WestCat Search" &/or "Add PHL Search." That's it! These become alternate search engines you can use in addition to Google and other favorites (e.g., Google as Default; Switch whenever desired to: Wikipedia, YouTube, WIU Searchbox, etc.). [Firefox only]
WestCat Search (Library Catalog Search >> search by keyword for books, e-books, DVDs and other materials at WIU Libraries)
PHL Search (Periodicals Holdings List Search >> search by title for over 50,000 full-text e-journals, e-newspapers, and print/microforms shelved in the Libraries)