Libraries
Bishop Hill Tour - canceled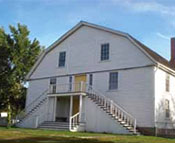 This trip has been canceled.
University Libraries will host a tour of Bishop Hill, Illinois on Saturday, May 17, 2014. Upon arrival, the day will begin with a guided tour of the Bishop Hill village, followed by another guided tour of Bishop Hill Museum. Although lunch will be on your own, a space has been reserved for participants to bring their meal and listen to Dr. Jeff Hancks, Archivists and Special Collections Librarian, discuss the history of the Swedish utopian community established in the area in 1864 by Erik Jansson. The afternoon schedule is open for participants to roam the village, visit the shops, or take in the Jars, Jewels, and Jellyrolls quilt show. Additional information about Bishop Hill can be found at www.bishophill.com.
The cost of the tour is $40.00 per person and that includes transportation to and from Western Illinois University's Macomb campus. The bus will leave the Macomb campus at 8:00 a.m. and return at 6:00 p.m. For those interested in meeting the group at Bishop Hill, the fee is $10.00 per person. Please contact the Library Administration Office at (309) 298-2762 to request tour registration details.