Libraries
Created Equal: America's Civil Rights Struggle Event Series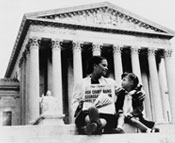 Western Illinois University Libraries, the Departments of African American Studies and History, are pleased to announce the receipt of the grant, Created Equal: America's Civil Rights Struggle, an initiative of the National Endowment for the Humanities that uses the power of documentary films to encourage community discussion of America's civil rights history.
The documentaries, The Abolitionists, Slavery by Another Name, Freedom Riders, and The Loving Story, include dramatic scenes of incidents in the 150-year effort to achieve equal rights for all. Freedom Riders received an Emmy in 2012, and The Loving Story and The Abolitionists have been nominated for Emmys in 2013. The co-scholars for the grant are F. Erik Brooks, PhD, Professor and Chair of Department of African American Studies and Peter Cole, Professor with Department of History.
Dr. Martha Biondi, Professor from Northwestern University, will be presenting "The Black Revolution on Campus: Black Students and the Transformation of Higher Education." The talk describes an extraordinary chapter in the Black freedom struggle when Black students rose up and pressed for change on college campuses across the country. Inspired by Stokely Carmichael's call for Black Power and Black self-determination and shocked and saddened by the assassination of Martin Luther King Jr., Black students and their allies won significant reforms even as they endured considerable violence, intense criticism, and mass arrests. The Black liberation did not die with the death of Dr. King, it accelerated and spread, vastly expanding access to college for the multiracial working class and challenging definitions of merit, knowledge and universalism.
The schedule for the events is as follows:
February:
02/06/2014 at 7 p.m.

Martha Biondi Presentation, Morgan Hall 109

02/11/2014 at 7 p.m.

The Abolitionists, Sandburg Theater

02/18/2014 at 7 p.m.

Slavery by Another Name, Sandburg Theater

02/25/2014 at 7 p.m.

Freedom Riders, Sandburg Theater
March:
03/04/2014 at 7 p.m.

The Loving Story, Sandburg Theater
The Created Equal film set is made possible through a major grant from the National Endowment for the Humanities, as part of its Bridging Cultures initiative, in partnership with the Gilder Lehrman Institute of American History.
Any further questions about the event can be directed to Tammy Sayles at (309)298-3298 or tj-sayles@wiu.edu.