Libraries
Art in the National Parks (National Parks Speaker Series)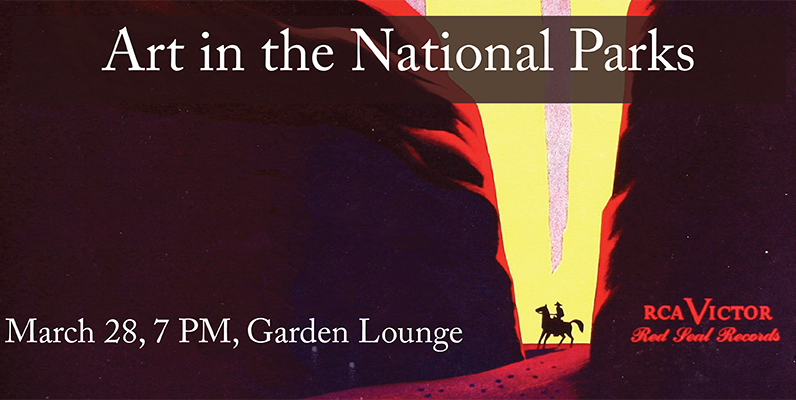 When one thinks of art related to the National Parks, what immediately comes to mind is likely painting, such as the work of Thomas Moran in Yellowstone, or photography, such as Ansel Adams's work in Yosemite. It is less likely that people will think of music. If they do, they might name works like the "Grand Canyon Suite" of Ferde Grofé, or Aaron Copland's "Appalachian Spring". Those who are really knowledgeable about the National Parks might know that there is one park - Wolf Trap National Park near Washington, D.C. - that is dedicated to the performing arts.
In order to expand conceptions of what 'art in the parks' might mean, Dr. James Romig and Ashlee Mack will talk about their experiences as artists in residence in the National Parks in the Malpass Library Garden Lounge at 7:00 PM on Tuesday, March 28, 2017. Dr. Romig, Professor of Music at Western Illinois University, and Ms. Mack, Head of Piano Instruction at Knox College, have participated in artist in residence programs at Petrified Forest National Park (2009), Grand Canyon National Park (2012) and Wupatki National Monument (2013). They will spend the month of December 2017 as artists-in-residence at Everglades National Park. Dr. Romig's residency at Petrified Forest National Park yielded his "Percussion Concerto;" his time at Grand Canyon was spent composing "Time Seems to Pass" for two pianos. While at Everlades in 2017, during a fall-semester sabbatical, Dr. Romig will be working on a new concerto for piano and orchestra, commissioned by the Waterloo-Cedar Falls Symphony. Ashlee Mack will perform as soloist with the WCFS when the work premieres in the 2018-19 concert season. During the talk, Dr. Romig will play musical examples from "Time Seems To Pass" and a few other selections.
The talk is free and open to the public. Light refreshments will be served after the talk. For more information, contact Linda Zellmer at LR-Zellmer@wiu.edu or 309-298-2723.