School of Agriculture
Agriculture Internship - AG 301
Introduction
Agriculture is changing rapidly. Agricultural careers involve crop and livestock production, forestry, ornamental horticulture, business management, delivery of supplies and services, engineering and mechanization, processing, research and natural resource conservation. New technologies, computers, chemicals, complex production systems, etc., require that today's students need specialized training and experience to meet tomorrow's challenges.
Internship Packet
I. Goal
The goal of the internship is to provide professional agricultural experiences to students in the operation and management of agricultural businesses, or public or private agencies; thus enhancing preparation for a career in agriculture.
Objectives of the internship are to:
Provide new first-hand applied experiences in the operation and management practices of an agriculture business or agency.
Create professional networks and contacts for the future.
Develop competencies in the operational tasks of managing an agricultural business or agency.
Acquaint the intern with the physical, academic, and environmental requirements of a chosen career.
Develop the intern's ability to search for and find employment in business and industry.
Provide the participating agricultural business or agency an opportunity to evaluate the employability of an intern.
Improve oral and written communication skills of an intern.
Demonstrate the importance of responsibility and personal interactions to the success of a career.
II. Course Credit
The following semester-hour credit schedule will be followed. The course is repeatable for a maximum of 12 semester hours of credit; however, only 6 semester hours can count in the Agriculture major. The minimum is four (4) semester hours. Each hour of credit requires an accumulated sixty (60) hours of work. For example, a student signing up for 5 semester hours must accumulated a total of 300 hours verified by his/her supervisor. The work week is 40 hours; for less than 40 hours per week, credits will be prorated.
| Credits Allowed | Hours Worked | 40 hr weeks |
| --- | --- | --- |
| 4.0 | 240 | 6.0 |
| 5.0 | 300 | 7.5 |
| 6.0 | 360 | 9.0 |
| 7.0 | 420 | 10.5 |
| 8.0 | 480 | 12.0 |
| 9.0 | 540 | 13.5 |
| 10.0 | 600 | 15.0 |
| 11.0 | 660 | 16.5 |
| 12.0 | 720 | 18.0 |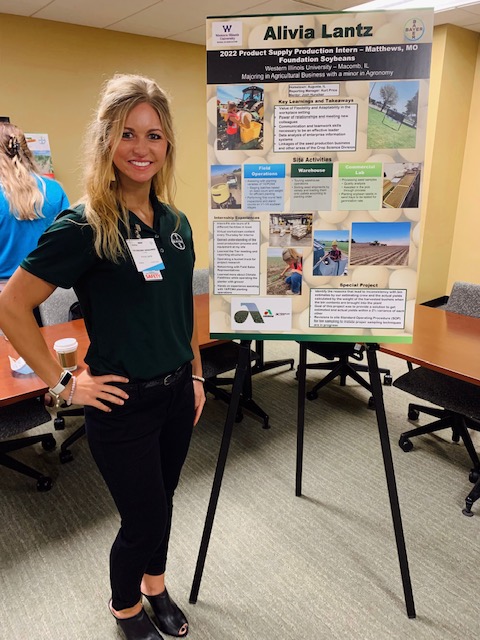 Qualifications
To qualify for Agriculture 301, Agriculture Internship, the student must meet the following criteria:
Be an Agriculture major
Have completed 54 semester hours prior to the beginning of the internship.
Have a MINIMUM cumulative and major GPA of 2.25 at the time of application, no exceptions.
Follow the Agriculture 301 semester-hour credit schedule.
Follow the policies and requirements of the business, industry or agency, and of this internship.
Pay the tuition and fees appropriate for the number of hours of the internship credit.
Be graded on a letter grade basis. The grade will be included in the GPA.
Apply to and have the approval of the faculty internship supervisor of Agriculture 301 prior to enrolling.

Internship credit is not allowed for working with (or for) a family business.
If a student is working at a place of previous employment, they must demonstrate in writing how the internship will differ from previous duties -- work with a different supervisor, different networks, and obtain new and different work experiences.