Theatre and Dance
Bachelor of Fine Arts (BFA) in Musical Theatre ~ Signature Program
Why Choose Theatre at WIU?

Professional theatre, dance, and music artists serve as faculty and staff, including full-time voice & dance instructors.
Students gain valuable proficiency in their craft and performance skills through coursework as well as our rigorous production program.
Comprehensive pre-professional training program produces engaged, motivated professionals with highly sought after skills.
Learn and perform with the best! This competitive program requires auditions for admission.
We host 4 or 5 on campus summer stock company auditions each year providing numerous internship opportunities.

View More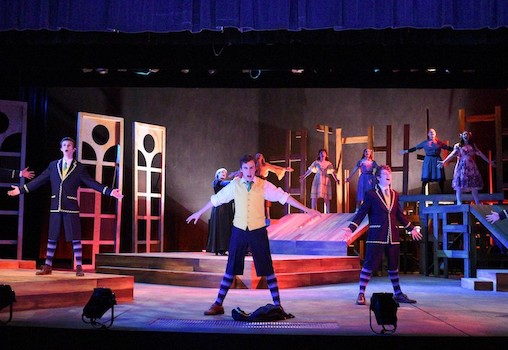 Audition for our prestigious Musical Theatre program. Spots still available for fall 2019.
Career Opportunities
Jimmy Capek (BFA Alumnus, 2015) has been working regionally all over the country from Florida, Chicago, Montana and many other places since graduation. Most recently he appeared in Mamma Mia! with WIU's own Lysa Fox and also danced his heart out in Newsies at Grandstreet Theatre, Montana. Coming up next you can catch him and fellow Alumna Hollyn Gayle in The Little Mermaid with Variety Theatre in St. Louis also featuring Terrance Mann! Follow his journey at www.jimmycapek.com
"The WIU Faculty/Staff taught me so much more than just about being a "triple threat." The WIU Theatre program taught that the components to be successful in this business are that you need to be able to sing, dance, and act of course; but to always be kind and gracious for the opportunities that you receive. I feel that particular asset has truly been a key factor in my post graduate success. It costs nothing to be kind, we are living on an actor salary after all."
-Jimmy Capek '15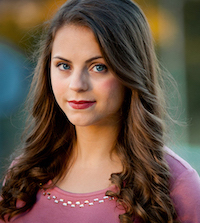 Hollyn Gayle holds a BFA in Musical Theatre (Summa Cum Laude) from Western Illinois University. She is currently based out of St. Louis, a thriving theatre market on the rise. Recently, she joined Ozark Actors Theatre for their "Season of Strong Women", playing the title role in Violet. Hollyn Gayle is a proud Equity Membership Candidate well on her way to Equity eligibility. Past professional credits include: Annie Get Your Gun (Annie Oakely), Hello, Dolly! (Minnie Fay), As You Like It (Celia), Footloose (Ariel). She has also interned at Laura Stanczyk Casting (Urinetown, Follies, Ragtime) in New York City, where she gained insight into the business of Broadway. Up next Hollyn will be understudying the role of Ariel in The Little Mermaid at Variety Theatre, as well as performing in the ensemble. Then she will join the cast of Church Basement Ladies: Away in a Basement as Beverly at the Playhouse @ Westport Plaza. When the holiday season ends, she will begin rehearsals for the role of Molly in Farragut North at St. Louis Actors' Studio. For more info check out her website HollynGayle.com or on social media: @HollynGayle. Psalm 30:11-12.
Hollyn Gayle is joining Variety Theatre in St. Louis for their production of The Little Mermaid as the Ariel understudy and as a member of the ensemble. Variety Theatre prides themselves on giving opportunities for children of all abilities to shine onstage alongside a professional adult cast. This year, Broadway's Terrance Mann will be playing the role of King Triton, alongside the inclusive children's chorus. Fellow WIU alum, Jimmy Capek will be joining Hollyn in the ensemble of this production.
""I am so thankful to WIU's Theatre and Dance department for giving me the one-on-one, individualized training I needed to grow and sharpen my skill set. Never once at WIU did I feel like a number, or like I was being forced into the cookie cutter version of a generic musical theatre performer. Because of my time at WIU, I am a unique and versatile performer, which gives me an edge in the audition room." "
-Hollyn Gayle
Scholarships
Harold F. Schory Scholarship usually $500 a semester
Frank J. Horn Memorial Scholarship usually $500 a semester
Pearl LeCompte Memorial Scholarship from $500 - $2000 a semester
Ronald P. Maurer Memorial Scholarship usually $600 a semester
The Mary Ewing Scholarship for Theatre usually $1000 a semester
The Oitker & Miller Scholarship usually $1000 a semester
Gene Kozlowski Playwriting Fund usually $1000 a year

View More