The Right Choice for Your Success
---
General Education Mobile (GEM) Program
---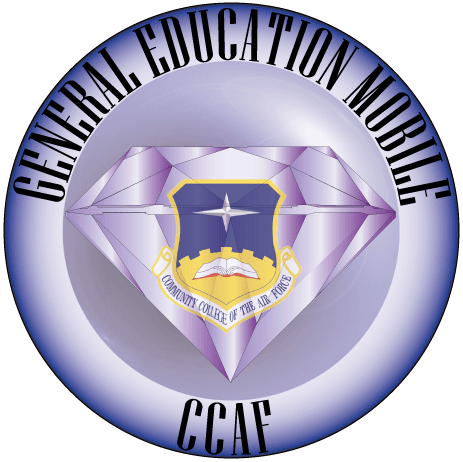 About the Program
Western Illinois University is a proud partner of the Community College of the Air Force's (CCAF) General Education Mobile (GEM) program. Western provides general education courses that meet CCAF requirements in an online format: anytime, anywhere availability. Students can use the GEM program to take one to all five general education courses -- written communication, mathematics, oral communication, humanities, and social science.
Course Listing
Courses offered during the fall & spring semester are 16 weeks in length; courses offered during the summer session are up to 8 weeks in length. All courses are 3 semester hours.
Written Communication Courses
English 180: College Writing I - Study and practice of writing as a social act with emphasis on rhetoric and genre.
English 280: College Writing II - Continued, advanced study and practice of writing as a social act with emphasis on disciplinary and professional contexts, rhetorical genre, and discourse community.
Oral Communication Course
Communication 242: Fundamentals of Public Speaking - Preparation and delivery of informative and persuasive speeches. Students apply concepts of critical listening, audience adaptation, organization/support of ideas, appropriate style, and effective delivery completed in an online format.
Social Science Courses
Psychology 100: Introductory Psychology - An introduction to psychology including methods, theory, and data regarding the study of behavior. Topics include biological, social, learning, personality, motivation, and abnormal behavior.
Anthropology 110: Introduction to Cultural Anthropology - Survey of basic concepts and approaches of anthropology to the study of human beings. Study of worldwide cultures from prehistoric to the present.
Anthropology 111: Introduction to Physical Anthropology and Archaeology - Study of human evolution from the perspectives of both biological and social sciences. Examination of the evolution of culture and the methods of its interpretation.
Mathematics Course
Statistics 171: General Elementary Statistics - Principles and applications of sampling, estimation, and hypothesis testing.
Humanities Courses
Art History 180: An Introduction to Art - Designed to help students understand our cultural background and the role art plays in contemporary life. The functions, styles, structure of art, and the interaction of medium and meaning. Contact with art forms, visual aids, and readings are utilized to stimulate student responses to aesthetic qualities in the visual arts. Does not count for art majors.
English 200: Introduction to Poetry - Reading and discussion of poetry from around the world and spanning more than a century, introducing students to questions of social justice and methods of interpretation.
Enrollment & Support
Contact Information
Veterans Resource Center
Wright Residence
Macomb, IL 61455
Phone: (309) 298-3505
veteransresources@wiu.edu