Libraries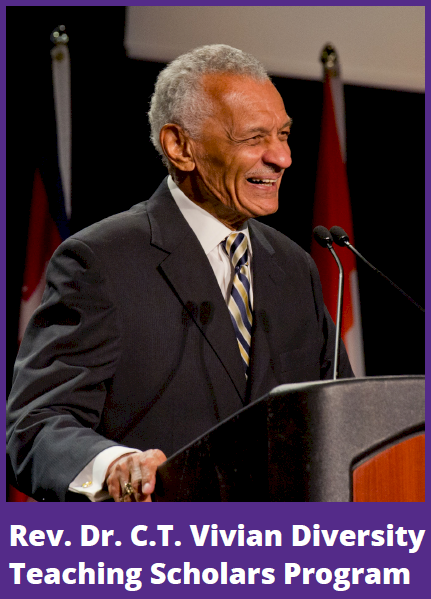 New Positions!
C.T. Vivian Diversity Scholars @ WIU Libraries
Who Can Apply?
The C.T. Vivian Scholars Program (info/application) is designed to provide professional experience, mentoring and training, and potential tenure-track employment within WIU Libraries for graduate students and current academic professionals pursuing careers as university library faculty. Eligible candidates must be entering the final year of a terminal degree program or have just completed a terminal degree program. Since the terminal degree for promotion and tenure in the Libraries is an accredited Master's degree in Library & Information Science (or the equivalent) as well as an additional advanced or professional degree, candidates have two paths to qualify:
Already hold at least a Master's Degree in any academic field and be in the final year of earning a Master's in Library & Information Science or have recently completed one.
Already hold a Master's in Library & Information Science and be in the final year of (or recently completed) another Master's Degree in any academic field.
For more information, please contact the Library Administrative Office.
About Western Illinois University Libraries
The WIU Libraries include the Malpass Library (Main Library), Curriculum Library, Music Library, and Quad Cities Library. WIU Libraries also provides access to the university's Multicultural Center collection, with materials chosen to enhance the campus community's understanding and appreciation of all identities.
The WIU Libraries are in the middle of planning and developing significant institutional changes related to our collections and services. We want to promote greater awareness, interest, and research in both international and regional issues, as well as build on the university's effort to expand diversity, equity, and inclusion.
We already have some wonderful unique collections. Our Archives & Special Collections houses the iconic Baxter-Snyder Center for Icarian Studies, home to the world's most extensive collection of materials relating to the Icarians, a French utopian community established in nearby Nauvoo in the 1850s. The Jeff Leibovitz Memorial Holocaust Collection, at the Quad Cities Library, contains a variety of materials related to the Holocaust which are especially suitable for middle and high school teachers and students.
Now we are planning to establish at least six new area studies collections: Hispanic-Latinx and Caribbean Studies; Africana and African Diaspora Studies; European and Asian Studies; Middle Eastern Studies; Anti-Racism, Intolerance, Genocide, and Holocaust Studies; and Women, Gender, and LGBTQIA+ Studies. These collections will be much more than printed or digital materials. They will be spaces for teaching, research, and having conversations and colloquiums. The collections will be related to the curriculum at WIU that deal with these areas of study, and also support research projects from WIU scholars and students as well as those from the region, the state, the country, and the world.
Archives & Special Collections will be transformed into the Center for Illinois Regional Heritage Studies as part of these changes. This will represent an expansion of physical space, but even more, it will increase the scope of their collection and reach. They are solidifying their work in becoming the most significant repository of western Illinois's history, culture, and social life.
As well as redefining and expanding our collections from the current one million to two million volumes, we will be creating more open spaces for study groups, creative rooms, and individual working areas. The WIU Libraries of the future will be significantly different on many levels.