Libraries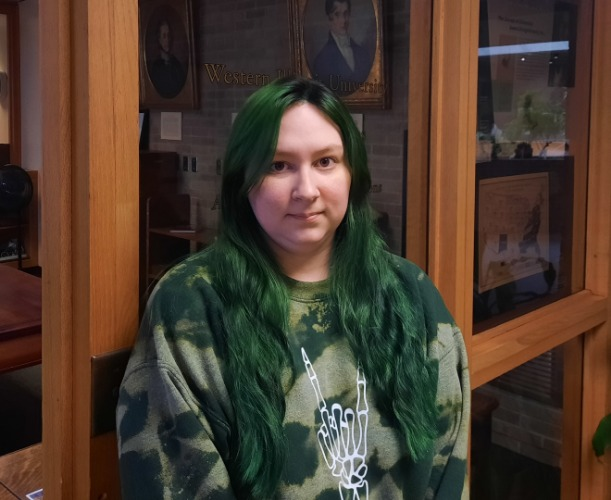 Library Grad Assistant Leia Hastings
When Leia Hastings was growing up, it never occurred to her that she would be in a university library someday processing manuscripts and working on interview transcripts.
But that is exactly what happened to her. Leia Hastings (of Henry, IL) began work as a graduate assistant in the Archives and Special Collections Department of the Western Illinois University Libraries last August. She will graduate with a MA in History in May 2022.
Leia's job duties have included working with public history and records management in an academic library setting. She has shown both a knack for and interest in records management in particular. Not many students, or staff for that matter, have the interest or patience for such work.
Coming from a background that includes magazine publishing, Leia knows quite a bit about how publications are physically created. This has helped the staff in Archives greatly as she has assisted in processing a wide variety of archival materials. She also helped create the transcripts of Professor Emerita Charlene Callison oral interviews which now reside in the collection.
Library staff have noted she is very personable and laid back with a great sense of humor. Dr. Michael Lorenzen (Coordinator of Archives) said, "Leia is an excellent employee who has brought a lot to the Archives and the University Libraries. It has been wonderful to work with her as she has demonstrated her knowledge and expertise."
Leia recently won the "Best Graduate Paper" award at the Illinois Regional Phi Alpha Theta Conference. Her paper was titled "Ghost of Tsushima: A Video Game's Potential in an Educational Setting."
The University Libraries gives many students the opportunity to apply their course work in a professional setting. The library employs dozens of undergraduate and graduate students just like Leia Hastings every year and your support of the library helps us continue to provide these opportunities.
How have we used past gifts?

Purchased iPads for the Curriculum Library to help students working on group projects

Established the Graham Scholarship, awarded to library student employees each year

Created funds for on-going support of specific collections such as multicultural fiction, holocaust educational materials, and health sciences resources

Purchased a large flat-bed scanner for the Music Library, allowing students to digitize and work with large scores and sheets
How might we use new gifts?

A database subscription or an e-book collection

A scanner that lets us convert microfilm to digital text, simplifying student research

Infrared wireless counters to update entrances

New furniture or carpet to brighten Malpass Library
How can you help?

Haley Hickenbottom
Malpass Library
1 University Circle Western Illinois University
Macomb, IL 61455
If you have questions, or you would like to discuss making a larger gift or including the library in your planned giving, please contact the WIU Foundation & Development Office at 309/298-1861.
---
For additional information, contact the Library Administration Office
Western Illinois University, 1 University Circle, Macomb, IL 61455.
ph: 309-298-2762 | fax: 309-298-2791