Libraries
Maps / Directions / Parking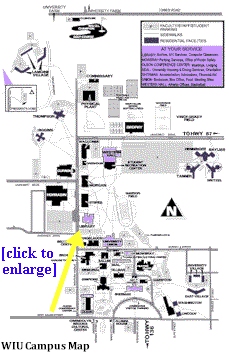 Malpass Library is located on Western Illinois University's Macomb campus along Western Avenue. Campus parking is limited; please contact Parking Services (309-298-1921) in Mowbray Hall (across from the University Union) for parking options and information.
Directions to WIU | Malpass Library via Google Maps
WIU is located in Macomb, Illinois, at the junction of Highways 67 (north-south) and 136 (east-west). From the Chicago area, travel west on I-88 or I-80. On I-88, exit #1A to I-74 east to Peoria. On I-80, exit I-74 west to Galesburg/Monmouth. At Monmouth, take Highway 67 south, 30 miles to Macomb. From St. Louis and other points south, take Highway 67 north to Macomb. From eastern Illinois, take Highway 136 and travel west to Macomb.
Layout of Malpass Library (internal)
WIU Libraries
Mailing Address: 1 University Circle
Street Address: 851 N. Western Ave.
Macomb, IL 61455-1390
(309) 298-2705 * (800) 413-6544
40.468041,-90.686924