Libraries
WIU Libraries Research Panel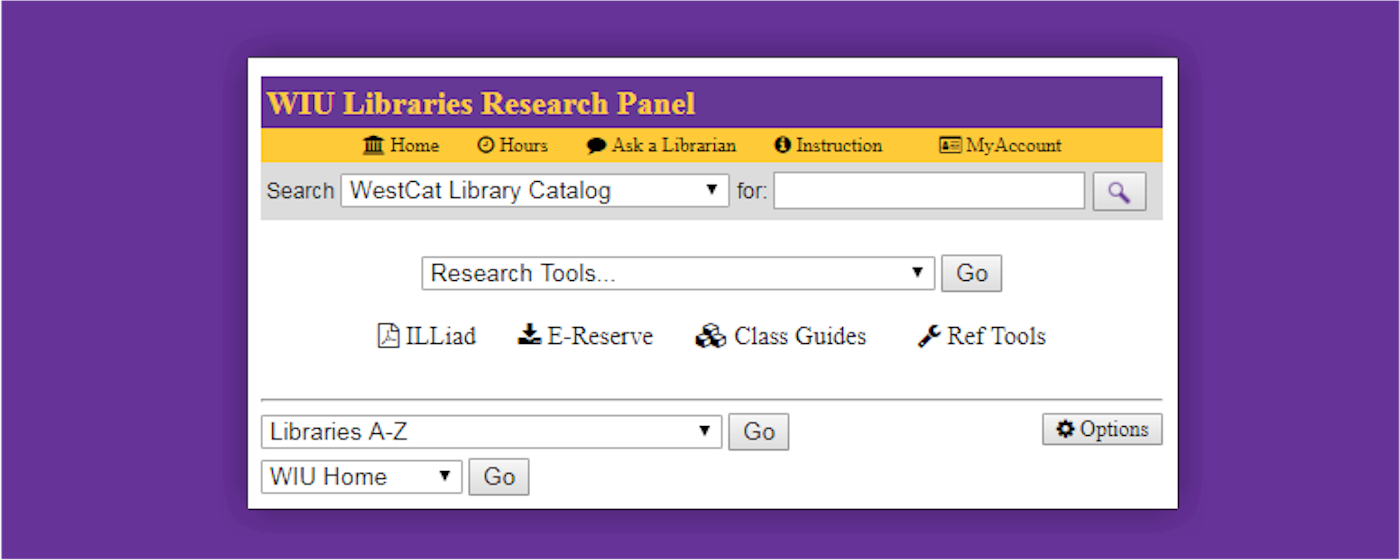 WIU Libraries' Information Systems & Digitization Unit has developed a Research Panel to increase library research productivity. The newest release, with versions available for both Chrome & Firefox browsers, enables convenient access to library information resources and services including scholarly databases, library catalogs (including new WestCat!), Interlibrary Loan services and Internet resources such as Google Scholar. Please give it a whirl and let us hear your comments & suggestions!
Features
The Research Panel gives you quick access to library resources and services wherever you are on the web. Downloading the panel gives you one-click access to:
Full-text articles and e-journals
World-class library research databases
Research assistance from professional WIU librarians
WIU's new PrimoVE-based WestCat & other library catalogs
ILLiad (Interlibrary Loan)
Google and Google Scholar
...and more!
The panel is unobtrusive, easy to deactivate and remove, and does not collect nor transmit any personal information from your computer.
---
Frequently Asked Questions
Q: Do I have to pay to use the panel?

A: No! The research panel is free -- download and use!

Q: Does the panel update automatically?

A: Yes. Future versions automatically update.