Libraries
WIU Library Faculty at ACRL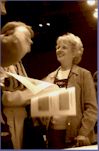 Kate Joswick, Professor, recently presented a poster session at the 12th National Conference of the Association of College and Research Libraries. Entitled Full Text Psychology Journals in Aggregator Databases, Joswick presented her findings from a study analyzing the representation of 433 leading psychology journals within major full-text databases frequently used by students.
Assistant Professors Bill Thompson and Brian Clark facilitated a roundtable discussion entitled Partners in the Firm: Faculty Government and Librarians during the April 7-10 proceedings in Minneapolis.
Other librarians participating in the conference included Krista Bowers Sharpe, Felix Chu, Hunt Dunlap, and Jeanne Stierman.