Libraries
Books on China Memorialize Brown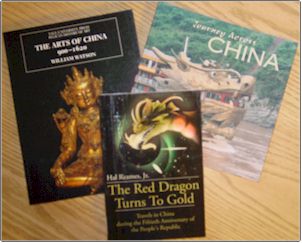 Doris Craig Brown was a lover of travel. She and her husband, retired WIU professor of History, Dr. Spencer Brown, lived in Nigeria for a time as he completed his research on the social history of the people of Lagos, 1852-1886. He notes that "She enjoyed meeting people from other cultures, and was extraordinarily observant of everything she saw."
Doris was always an avid reader with wide-ranging interests. Through books, Doris was able to go to many places that she was unable to visit in person. When she was unable to leave home due to illness, her travel became the armchair kind. Her love of books led her to Pearl Bucks The Good Earth and that single book, followed by all of Bucks other books, ignited her passion for everything Chinese. With suggestions from Mike Horace, then Asian historian at WIU, she read everything she could find on all aspects of China, including its arts, culture, history, civilization and geography. Doris even dabbled in the Mandarin Mike was studying. She also enjoyed documentaries and better films on China, such as The Inn of the Sixth Happiness, Joy Luck Club, and Crouching Tiger, Hidden Dragon, many of which had their origins in fiction written by Chinese authors or others who had lived and worked in China.
Upon Doris's death in 2001, her husband Spencer and daughter Bekki began making gifts to the University Libraries in Doris's memory. Because of her intense and lasting interest in China, they requested that books on China be purchased through their donations to the Library Atrium Society Fund. To date 42 books have been added to the Malpass Library collection on all aspects of China, especially in the "description and travel" area of the collection. Dr. Brown notes his reasons for remembering his wife in this way: "Although Doris always hoped I could find a reason for study African history while living in China, she fully supported my Lagos research and writing in my 4th floor carrel of the Malpass Library so I know she is pleased with this remembrance of her- a thank you for the support all have always received in the library, our special 'Temple of Knowledge.'"