Libraries
A Harry Potter Celebration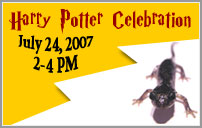 Wizards, masters of the dark arts and muggles [also known as ordinary mortals] are invited to Western Illinois University's Leslie F. Malpass Library Tuesday, July 24 to celebrate the release of the last Harry Potter book.
The party, which is open free to the public, will be held from 2-4 p.m. on the first floor of the Malpass Library. Graduate reading students from Curriculum and Instruction Professor Angela Ferree's class will perform original drama, poetry and music centered around Harry Potter. Refreshments -- including witch's brew and cookies decorated with Hogwarts House's four colors -- will be served.
Dean of Libraries Phyllis Self has knitted beanies and other caps representing the four Hogwarts House colors that will be given away as door prizes, along with Bernie Botts Beans and other Harry Potter memorabilia.
"We'd love to see members of the University and Macomb communities -- young and old alike -- at the Harry Potter party," Self said. "This is an entertaining way to pay tribute to an author who reaches audiences of all ages and to recognize the importance of reading."
In addition to the party, the Malpass Library will have on display throughout the month of July Harry Potter-related merchandise and books to celebrate the successful series.