Libraries
Malpass Mocha Opens...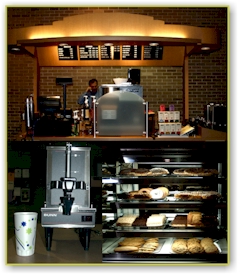 Located on the first floor of Malpass Library, the new Malpass Mocha Café offers a relaxed social atmosphere for students, staff and faculty to share ideas and purchase refreshments. Ask yourself, what is more enjoyable than a good book, an internet connection and a cup of your favorite tea or coffee?
Malpass Mocha Café serves "Seattle's Best" coffee (a Starbucks brand), espresso drinks, mochas and lattes and according to Dean Self plenty of chai latte's for that morning tea break. Malpass Mocha Café also serves snack type foods such as donuts, muffins, cookies, sandwiches, salads, fruit, and parfaits.
Malpass Mocha Café Hours
Malpass Mocha has been shut down indefinitely.
For further information, contact:
Sodexo 309-298-1292