Libraries
Petersen Ornithological Collection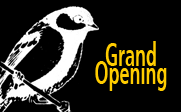 Western Illinois University's Libraries and College of Arts and Sciences will host a grand opening ceremony and dinner for the Mary Lou and Peter Petersen, Jr. Ornithological Collection at 6 p.m. Wednesday Oct. 24 in the University Union Heritage Room on the WIU-Macomb campus.
Petersen, a Davenport, IA native who died in 1997, bequeathed the collection to Western just prior to his death. He was a nationally renowned scholar and bird watcher whose observations were among the first to raise public consciousness that DDT was endangering the U.S. bald eagle population. Elton Fawks, a close friend of Petersen's and a Quad Cities conservationist, also contributed to this cause. Fawks' collection also resides in Western's University Libraries.
"Peter taught joyfully the sight and sound of birds," said Tom Dunstan, professor emeritus of biology, former acting director of the Institute for Environment Studies at WIU and longtime friend and colleague of the Petersens. "This is an excellent collection accumulated by a man whose knowledge of birds was among the best in the country. At the time of his passing, WIU was among several universities interested in obtaining the collection. We were fortunate to have been the recipient."
Mary Lou Petersen, herself an avid birdwatcher, will join the grand opening ceremonies. She continues to add to the Petersen Collection on a regular basis.
The Petersen Collection is comprised of approximately 1,000 unique titles of rare and high quality ornithological books, periodicals, banding cards and records dating back to 1886. Although the major focus of the collection is birds, other animal classifications are broadly represented. View the collection catalog at: http://wiu.edu/libraries/collections/petersen/index.php.
"The University Libraries staff is proud to present this comprehensive collection to support research not only on the WIU campuses, but to individuals and institutions in our region and beyond," said Phyllis Self, dean of WIU's Libraries. "We are honored to have Mrs. Petersen join us for this event as we celebrate the dedicated work our librarians have put into cataloging this unique and outstanding gift from her and her husband."
The gift also includes a substantial amount of field equipment used by licensed birders to capture, catalog and release birds in the wild for research and tracking purposes.
"The College of Arts and Sciences is gratified to have such an excellent research collection at the disposal of our faculty and students," said Inessa Levi, dean of the College of Arts and Sciences. "Through the generosity of Mr. and Mrs. Petersen, we now have an extensive ornithological collection that will be used not only by researchers, but also by naturalists, artists, historians, writers, travelers and photographers for many generations to come."
The ceremony and dinner are open to the public. Tickets are $20 per person and may be purchased through the University Libraries. Checks, payable to Western Illinois University, should be mailed to: University Libraries, Western Illinois University, 1 University Circle, Macomb, IL 61455. For more information, contact the Library office at 309/298-2762.