Libraries
I-Share Offline March 28, 2008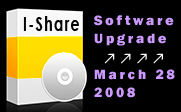 I-Share (CARLI's Voyager system) will be offline from 5:00 PM on Friday, March 28 until sometime during the day on Saturday, March 29, 2008 for an Oracle database software upgrade. During this time, a copy of the I-Share Universal Catalog and all 71 I-Share libraries' "local" catalogs will be available in read-only mode.
The public catalog will support searching only; users will not be able to place requests, renew items, or perform other actions in "My Account" and attempts to perform these functions from the public catalog (WebVoyage) will return error messages.
CARLI staff's expects the upgrade to be completed on Saturday, and I-Share should be completely online for all functions before libraries open on Sunday.