Libraries
2008 Celebration of Banned Books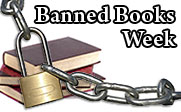 In honor of Banned Books Week, the Western Illinois University Libraries present "Banned and Determined," an evening of readings from censored, banned, and challenged books at the Malpass Library, room 180, on Tuesday, September 30, 2008 at 7 pm. The program will feature Western faculty, staff, and students, as well as community members, reading from works that persons at various times and places have tried to suppress, including Jodi Picoult's Nineteen Minutes and Robert Heinlein's The Day After Tomorrow, both of which have recently been targeted in Beardstown, Illinois. Selected passages will also be read from works such as Studs Terkel's Working, Allen Ginsberg's Howl!, Ray Bradbury's Fahrenheit 451, and Judy Blume's Forever, among other titles. The event is organized by Krista Bowers Sharpe and Jeffery Darensbourg, both librarians at Western.
Banned Books Week is an annual celebration of controversial reading sponsored by the American Library Association and this year takes place from September 27 to October 4. The Western Illinois University Libraries encourage all readers to read fearlessly during Banned Books Week and at all times.
For more information about the "Banned and Determined" event contact Krista Bowers Sharpe at 309-298-2785 ext.1 or KA-Bowers-Sharpe@wiu.edu.