Libraries
Donations Accepted for the Annual Malpass Library Book & Media Sale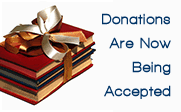 The Malpass Library is now accepting donations for its annual book and media sale, which will take place from Monday, February 2 through Thursday, February 5, 2009. Please bring in books, CD's, DVD's, software, and other media to the Malpass Library for donation between 8:00 am and 4:30 pm weekdays.
Donations of Materials May Be Tax-deductible! Receipts for tax purposes are available.
For more information please contact Mr. Greg Phelps at GW-Phelps@wiu.edu or 309-298-2730.