Libraries
McDonough District Hospital Archival Collection Reception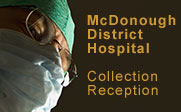 WIU Libraries Reception Celebrating McDonough District Hospital Archival Collection
The Western Illinois University Libraries are pleased to announce a reception honoring the establishment of a new collection of materials showcasing the history and community involvement of the McDonough District Hospital (MDH), which is celebrating its 50th anniversary. The donation of the materials by the hospital to create the collection is part of a new partnership between MDH and the University.
The reception, which is free and open to the public, will be held at 2 p.m. Tuesday, August. 12 in the Malpass Library Garden Lounge. Speakers include English Professor Emeritus and former Archivist John Hallwas; Dr. Donald Dexter, President of the MDH Board of Directors; Stephen Hopper, MDH President and CEO; Dan Hendricks, Vice President for Advancement and Public services at Western; and Jeffrey Hancks, Archives Coordinator and Baxter-Snyder Professor of Icarian and Regional Studies. Items from the collection will be on display at the event.
For more information, please contact Kathy Nichols, Archives Specialist, at 309-298-2717 or K-Nichols@wiu.edu.