Libraries
ILL 1980's - Themed Open House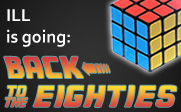 In 1984 WIU students could play Donkey Kong in the basement of the recently constructed Malpass Library, the Go-Go's--Like totally for sure!-- wowed the campus with a fall concert, and color-coded forms had to be filled out if a person needed an item for a project and it wasn't in the library collection. Looking back fondly on good times had in the 80's and celebrating what the latest technology has brought to library services, the University Libraries Interlibrary Loan Office will be hosting a 1980's-themed open house on Friday, August 29, 2008 from 10 am to 3 pm at the Malpass Library. The event will feature door prizes donated by local businessperson Celene Cross of Spirit in the Sky and Kathy Keefer of The Phoenix as well as music, videos, and even candy with a 1980's theme and a great opportunity to learn about the many ways in which library patrons can use interlibrary loan services to gain access to books, films, and articles even when the WIU Libraries don't own the item in question.
Recently interlibrary loan at Western has moved to an all-digital format, known as ILLiad, which has made the process of borrowing materials from outside of the University faster and more efficient. Those who visit the open house can receive hands-on assistance with setting up an ILLiad account and gain access to millions of items from all over the world with just a few clicks of a button. "Many things have changed in libraries since the 1980's, especially in the realm of technology," notes WIU interlibrary loan coordinator Linda Wade, "but what hasn't changed is that we are still committed to helping people at our University to get the information they need. We hope people will drop by for a taste of the 1980's and of what we have to offer here in the University Libraries."
List of Door Prizes:
80's cd from Rock N Records owned by Cathy Jersey
Gift Certificate from Spirit in the Sky owned by Celene Cross
Gift Certificate from The Phoenix owned by Kathy Keefer
Led Zeppelin Poster Phoenix
Betty Boop wallet
80's Party in a bag
Golf Pen set
80's accessories
For more information please contact Linda Wade at 309-298-2761 or LA-Wade@wiu.edu.