Libraries
Penelope Myrtle Kelsey Book Talk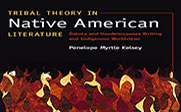 Native American literary voices and the impact of American Indian thinking on interpreting literature will be the subject of a book talk by Penelope Myrtle Kelsey, a woman of Seneca descent who is assistant professor of English and Journalism at Western Illinois University and author of the recently-published Tribal Theory in Native American Literature.
The event will take place on Thursday, October 16, 2008 at 4:30 pm in Taylor Hall, located at 121 South Randolph Street in Macomb's courthouse square. The event is sponsored by Western's University Libraries, Department of English and Journalism, Native American Indian Organization, and Center for Regional Authors in addition to her publisher, the University of Nebraska Press. Refreshments will be provided and a book signing will follow the talk and discussion.
For more information please contact Dr. Erika Wurth of the Department of English and Journalism at 309-298-1212 or ET-Wurth@wiu.edu.