Libraries
Robert Mapplethorpe Lecture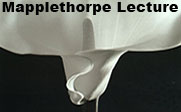 Art historian Keith Holz, an associate professor in Western's Department of Art, will be delivering a lecture about noted American photographer Robert Mapplethorpe on Tuesday, October 7, 2008 at 2:00 pm in the Malpass Library, room 180. The lecture, entitled "Mapplethorpe Remembered," will explore the life and legacy of a controversial artist whose works are the subject of much discussion and influential almost twenty years after his death. Mapplethorpe's photos, which often contained strongly sexual themes, especially of a homosexual nature, were sometimes the target of protests by groups decrying the images as obscene. Holz is an expert in twentieth century art who has lectured at major museums and art institutes in the USA and Europe.
The talk is free and open to the public and is the first of four lectures in the "Libraries, Archives, Museums, and Sexuality Series" sponsored by the WIU Libraries and the University Committee on Sexual Orientation.
For more information about the lecture please contact Dr. William Thompson, of the University Libraries, at 309-298-2785 ext. 7 or WA-Thompson@wiu.edu.