Libraries
Music Library Closed July 2008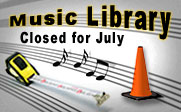 Update:
Music Library materials returned in person to the Music Library while it is closed for renovation may be left upstairs in the Band Office (Sallee 202) on Second Floor, or in the Music Department Office (Browne 122) during regular office hours.
Materials may also be returned to Malpass Library. Books and scores may be deposited in the outside bins, but we prefer that CDs, DVDs, and VCRs be returned to the circulation desk.
Materials that become due may be renewed by calling Peggy Roth in the Circulation Unit (298-2759 or 298-2705)
Patrons will not be fined for overdue materials due back during the month of July.
We apologize to patrons for any inconvenience our renovation may cause them.
For further information call Malpass Library: 298-2764 or 298-2762
Rod Sharpe

Music Librarian
---
The Western Illinois University Music Library will be closed for renovations beginning July 1, 2008 and reopening in early August of this year. The Music Library, located in Sallee Hall, will get new carpet and its layout will be changed in order to be more accessible to patrons. Items from the Music Library's collections will be unavailable during this time. According to WIU Music Librarian Rod Sharpe, "This is a great opportunity for us and it will help us to better serve the University and our regional community. Our Music Library is a fine resource and this is part of making it even better". For more information please call the University Libraries Administration Office at 309-298-2762 or visit www.wiu.edu/library.