Libraries
Native American Heritage Month Events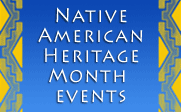 November is Native American Heritage Month and in honor of this occasion Western's University Libraries, Department of English and Journalism, and Native American Indian Organization are sponsoring an event.
On Thursday, November 6th, Dr. Stephen Warren of Augustana College will give a lecture entitled "Chopping Wood: Being and Becoming Shawnee in a Global Age" at 3 pm in Malpass 180. Warren is a historian specializing in Native American history who has been actively involved with Miami and Absentee Shawnee tribes. His lecture will focus on the survival of Shawnee religious and ceremonial traditions in contemporary society.
This event is free and open to the public. For more information please contact Dr. Penny Kelsey of the Department of English and Journalism at 309-298-1111 or P-Kelsey@wiu.edu.