Libraries
New Math Software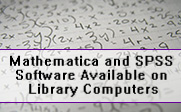 In addition to our collections of publications and the expert research assistance we have on offer, the University Libraries are also well-known for providing access to the computers and software needed for completing assignments and doing research.
SPSS, a powerful tool for the creation and analysis of statistical data, is now being offered on selected computers in the Malpass Library (309-298-2705). As the use of statistical data is common many of our programs here at WIU, especially in the social sciences, having SPSS software in the Malpass Library supplements our scholarly resources quite well.
The Physical Sciences Library (Currens 201, 309-298-1407) now has Mathematica 6 on a dedicated computer. Mathematica is a powerful software suite for heavy-duty mathematical computation and will be especially useful for our number-crunching folks in physics, chemistry, computer science, and of course, mathematics itself, as well as other scientific and engineering subjects.