Libraries
Out of the Closet, into the Archives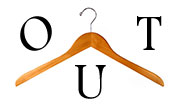 The Libraries, Archives, Museums, and Sexuality Series continues at Western with a presentation by David McCartney and Kären Mason entitled "Out of the Closet, into the Archives: Rewards and Challenges of Preserving Lesbian, Gay, Bisexual, and Transgender History" on Wednesday, November 12, 2008 at 2pm in the Malpass Library, room 180.
McCartney has been the University Archivist at the University of Iowa since 2001 and has worked on several collections related to LGBT history. Mason has been Curator of the Iowa Women's Archives at the University of Iowa since its founding of the Women's Archives in 1992. The presentation will give special attention to the collections at the Iowa Women's Archives, a collection which, according to Mason, "seeks to gather the history of groups traditionally underrepresented in archives."
The presentation is sponsored by Western's University Committee on Sexual Orientation and University Libraries.
For more information please contact Dr. William Thompson of the University Libraries at 309-298-2785 ext. 7 or WA-Thompson@wiu.edu.