Libraries
Rural Library Conference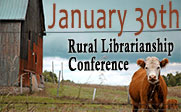 On Wednesday, January 30, 2008 from 9 a.m. to 3 p.m. "Building Rural Libraries and Communities" a free conference on libraries and community economic development sponsored by Alliance Library System, Western Illinois University Libraries, and the Illinois Institute for Rural Affairs (IIRA) will take place at Alliance Library System in East Peoria, Illinois. The conference will feature Christine Hamilton-Pennell, founder and president of Growing Local Economies and an expert in rural economic development and its relation to local libraries. This conference is part of an ongoing commitment by WIU Libraries to the enrichment of regional communities.
Who can attend?
All interested parties are invidted to attend , including those who work in libraries, educators, businesspersons, community leaders, library advocates, and all who are interested in libraries and rural development and who wish to gain timely and practical information about helping rural libraries and local economies to help each other.
Register:
Please email Genna Buhr at Alliance Library System or call 309-694-9200 x2145. Please include names, organization, and contact information (email, phone, and address) for all registrants. The conference and registration are free! For more information please contact Dr. Phyllis Self, Dean of Western Illinois University Libraries, at 309-298-2762.
Additional information will be posted on Dr. Phyllis Self's Blog as it becomes available.