Libraries
Science Fiction in Film from Them till Now!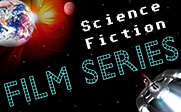 All films are shown in the Malpass Library, room 180, at both 3:30 and 7:00 p.m. and admission is free of charge.
September 8
Them! (1954)
Introduced by Bill Knight
A meditation on the unintended consequences of the Cold War and the dawn of the Nuclear Age, in this witty and highlyinfluential film a nuclear blast creates a race of killer ants of unusual size.
---
September 15
Invasion of the Body Snatchers (1956)
Introduced by Tracy Knight
This chilling exploration of personal and political fears of the loss of individual and national identity still captivates audiences and lingers on in the mind long after viewing.
---
September 22
1984 (1956)
The classic film of the classic dystopian novel explores contemporary issues such as personal privacy, government surveillance, and the nature of dissent. Will you learn to love Big Brother? He's watching.
---
September 29
Village of the Damned (1960)
A dozen blond, creepy, cruel, bug-eyed, and seemingly all-powerful children are born under mysterious circumstances in a sleepy English village and set out to control the world. Can they be stopped by mere mortals such as ourselves?
---
October 6
Seconds (1966)
What if you could do it all over again and start anew, a new face, a new life? What if someone could offer you the chance to be whomever you wished, for a price? The dashing Rock Hudson stars in this examination of the relationship between personal choice and human happiness.
---
October 13
2001: A Space Odyssey (1968)
The late Arthur C. Clarke's supreme cinematic masterpiece, a strikingly beautiful film, 2001 explores the intimate relationship between human nature and technology from a cosmic perspective.
---
October 20
Silent Running (1972)
In the (hopefully) far-distant future, a vessel harboring the last of Earth's vegetation orbits the planet with a few human caretakers. When orders are given to abandon the project, one of the crew members decides to take things into his own hands.
---
October 27
Native American Alternative Realities, featuring From Cherry English (2005), The Colony (2007), and Dead Man (1996)
Introduced by Penelope Myrtle Kelsey
The themes of hostile colonization, cultural identity and loss, and environmental destruction are explored in these films with a First Nations perspective. Two short sci-fi films by Mi'kmaq director Jeff Barnaby will precede Jim Jarmusch's highly-acclaimed Dead Man, starring Johnny Depp and Gary Farmer.
---
Sponsored by the Center for Innovation in Teaching and Research, University Libraries, and the Department of English and Journalism)