Libraries
Sexuality Collections Lecture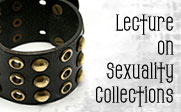 The Libraries, Archives, Museums, and Sexuality series continues at Western Illinois University's Malpass Library with its second installment, a lecture by Rick Storer, executive director of the Leather Archives & Museum, on October 16, 2008 at 2:00 pm in Malpass 180. In his lecture, entitled "Sexuality Collections at the Leather Archives & Museum," Storer will discuss issues of censorship, privacy, and confidentiality relating to the archiving of sexually explicit library and museum materials. Storer, who is both a certified public accountant and a librarian, is an expert in copyright and privacy issues. The Leather Archives & Museum houses materials related to sexuality such as books, personal papers, recorded interviews, and artwork.
Dr. William Thompson, associate professor in Western's University Libraries and organizer of the event, notes that "Libraries, archives, and museums are often sites of cultural conflict where First Amendment issues of censorship and open-access arise again and again, as when books are challenged for having sexually explicit content. Archives and museums can be used to restrict as well as provide access to controversial information. These issues are important in a society like ours in which freedom of speech is cherished."
The event is sponsored by Western's University Committee on Sexual Orientation and University Libraries and is free and open to the public. For more information please contact Dr. William Thompson of the WIU Libraries at 309-298-2785 ext. 7 or WA-Thompson@wiu.edu. For more information about the Leather Archives & Museum please visit www.leatherarchives.org.