Libraries
Springfield Race Riot Centennial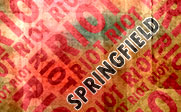 The Springfield Race Riot of 1908 produced murder, racially motivated assaults, and the destruction of the homes and businesses of many of the city's African-American residents. The riot also captured the attention of both the nation and the world and inspired the creation of the National Association for the Advancement of Colored People (NAACP) the following year.
Throughout the month of October the Department of History and University Libraries at Western Illinois University are hosting a traveling exhibit in the Malpass Library entitled "Summer of Hate: A Modern Perspective on the Springfield Race Riot of 1908". The exhibit, created by high school students in the Summer Scholars Program at the Lincoln Presidential Library and Museum, presents an overview of the events, key players, and aftermath of the rioting in commemoration of the centennial of the event.
To help in understanding the Springfield Riot, on Thursday, October 9, 2008 at 4:00 pm Dr. Sundiata Cha-Jua of the Department of History at the University of Illinois at Urbana-Champaign will deliver a lecture in the Garden Lounge of the Malpass Library, "Fighting as We Build: African Americans Constructing Community and Resisting Racial Violence in Illinois, 1890-1919." Dr. Cha-Jua is a scholar of the history of African-Americans in Illinois. The lecture will set the Springfield Riot in the context of the time and is co-sponsored by Western's Department of History, University Libraries, First Year Experience, Associated Students of History, Phi Alpha Theta, History Honors Society, and Department of African-American Studies. The event is free and open to the public with free parking available in Lot 19, directly west of the Malpass Library.
For more information contact Western Illinois University Libraries at 309-298-3014.