Libraries
The Underground Railroad in Western Illinois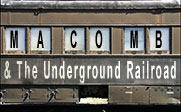 In celebration of Black History Month, Western Illinois University Libraries are proud to present a free lecture on "The Underground Railroad in Western Illinois" by Mr. Owen Muelder of Knox College, author of a recent book on the subject, on Tuesday, February 26 at 3:00 pm in the Garden Lounge of the Malpass Library at the WIU campus in Macomb with reception to follow.
Mr. Muelder is Director of the Underground Railroad Freedom Center at Knox College in Galesburg, Illinois. According to Jeff Hancks of the WIU Archives and Special Collections, the book is a "definitive account" of the courageous activities of the many citizens of Western Illinois who took part in the underground railroad, a loose organization of people who assisted slaves in escaping captivity prior to 1865. An entire chapter of Mr. Muelder's book examines the activities of McDonough County residents during that period.
This lecture is part of ongoing efforts by WIU Libraries in celebration of the culture and history of African Americans and the local region. For more information please contact Mr. Jeff Hancks of the WIU Archives and Special Collections at 309-298-2718 or email him at jl-hancks@wiu.edu.