Libraries
Lecture on African-American Labor Leader Ben Fletcher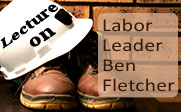 In honor of Black History Month, the Western Illinois University Libraries are sponsoring a lecture by Dr. Peter Cole, Associate Professor in the Department of History, entitled "Ben Fletcher: America's Foremost Black Labor Leader of the Progressive Era," on Thursday, February 5, 2009, at 3:00 pm in the Leslie F. Malpass Library, room 180.
Dr. Cole is an expert on American labor history and the author of the 2007 book Ben Fletcher: The Life and Times of a Black Wobbly. Ben Fletcher (1890-1949) was an influential leader of Industrial Workers of the World, a pioneering interracial union in an era of racial discord and anti-unionism. Cole will discuss Fletcher's life and times with attention paid to his influence on subsequent labor and civil rights movements. The talk is cosponsored by University Professionals of Illinois Local 4100, the union representing Western's faculty and academic support professionals. Admission is free and open to the public.
For more information contact the University Libraries at 309-298-3014.