Libraries
Research Workshops for Graduate Students at the Malpass Library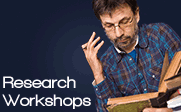 The Malpass Library is once again hosting workshops to help graduate students learn about the services, collections, and research opportunities available through the Western Illinois University Libraries. During these hour-long sessions graduate students will learn how to locate high-quality resources with greater ease, explore databases and other electronic resources, set up an interlibrary loan account, and get on track to becoming library power users, thereby paving the way to academic success.
These workshops, hosted by Virtual Services Librarian Andrea Falcone, will take place at the following times:
January 21st, 12:00-1:00 p.m. (Malpass LCC3)
January 22nd, 12:30-1:30 p.m. (Malpass LCC2)
January 23rd, 12:00-1:00 p.m. (Malpass LCC3)
The workshops are free and open to all WIU graduate students. Please contact 309-298-3298 for more information.