Libraries
Banned and Determined: WIU Libraries Host Banned Book Celebration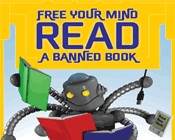 In honor of Banned Books Week, the Western Illinois University Libraries will present "Banned and Determined," a panel discussion on censorship, on September 27, 2011 at 7:00 p.m. in the Leslie F. Malpass Garden Lounge.
According to Krista Bowers Sharpe, reference librarian, the program will feature teachers from Macomb High and WIU discussing their favorite banned books, the importance of literature, and the impact that book challenges can have on students and society in general.
Banned Books Week is an annual celebration of controversial reading sponsored by the American Library Association (ALA); this year Banned Books Week takes place September 24 through October 1, 2011. For more information, please visit http://www.ala.org/ala/issuesadvocacy/banned/bannedbooksweek/index.cfm.
This year, in addition to the "Banned and Determined" event, University Libraries invited students, faculty and staff to make their voices heard. Participants were video taped discussing their favorite banned book. The videos can be viewed at www.youtube.com/user/LibraryWIU. A new video will be released each day of Bann Books Week. University Libraries hopes to expand these recordings, and would encourage those interested in creating a future video to contact us. For a list of the many books that have been banned or challenged through the years, please visit: http://wiu.libguides.com/bannedbooks.
"Western Illinois University Libraries' faculty and staff encourage all readers to join with the ALA in celebrating the freedom to read during Banned Books Week and at all times," Bowers Sharpe said.
"Banned and Determined" is free and open to the public.
For additional information, please contact Tammy Sayles, Marketing and Outreach Librarian at TJ-Sayles@wiu.edu or at (309) 298-3298.