Libraries
A Celebration of Women in Music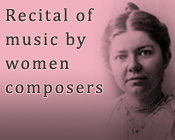 In honor of Women's History Month, 2011, University Libraries and The School of Music present, A Celebration of Women in Music, an informal recital of music by women composers. Students and staff of the School of Music will perform songs by Antonia Bembo and Amy Beach; a string trio by Laura Sirmen; Two Interlinked French Folk Melodies, arranged by Ethel Smyth; Three Irish Folksongs arranged by Rebecca Clarke, and Kokopeli for flute by Katherine Hoover. The recital will take place on Thursday, March 3, 2011 at Noon in the Multicultural Center's Multipurpose Room.
The recital is free and open to the public.
For more information about the recital, please contact Tammy Sayles at TJ-Sayles@wiu.edu or by calling 309-298-3298.